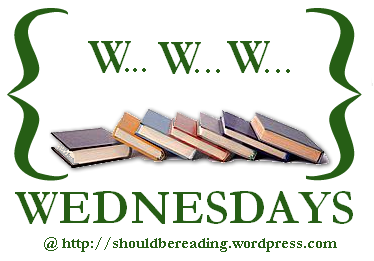 WWW Wednesdays is hosted by MizB at
Should Be Reading
who asks you to answer the following three (3) questions...
What are you currently reading?
What did you recently finish reading?
What do you think you'll read next?
What am I currently reading?
I'm working on
Inverted World
by Christopher Priest right now. It's a science fiction story about a city that has to constantly move on tracks that are being constantly built in front of it. I'm not exactly sure why the city has to keep moving (I haven't gotten to that bit of the story yet), but so far it's rather interesting. One clever bit is it seems that everyone's age is based on how far the city had traveled since they were born (for instance, when one of the main characters has reached the age of 650 Miles, he is able to join the work force). As I get farther along in the book, I'll post more about it.
I'm also working my way through Chris Ware's
Building Stories
. It's a graphic novel told in 14 individual stories that are all unique in their presentation. The whole thing comes in one big box, and the stories are either little pamphlets or posters, one is like a board game, another resembles an over-sized Golden Book. The whole thing is just a fantastic presentation. I love books that are unique in their construction. The stories follow a group of tenants (an elderly landlady, an unhappily married couple, and an amputee) in an old apartment building in Chicago. What comes across as most surprising for me is the emotional impact the stories have, both individually and as a whole as you begin to get a broader picture of what is going on in this apartment building. I've worked my way through about half of the contents of the box so far, and can already say that this will be on my list of favorite books for the year.
What did I recently finish reading?
I picked up a copy of
Snow White
by The Brothers Grimm the other solely because it is illustrated by Camille Rose Garcia. I picked up a version of
Alice in Wonderland
illustrated by her a couple of years ago and love it, so was thrilled to see that she had illustrated another book with HarperDesign. The graphic design and typography of the book, set with her artwork, really makes for a visually stunning book. I'm hoping that she does more books like this one. I'd love to see her take on
The Wizard of Oz
or
Peter Pan
.
What am I reading next?
To be honest, I'm not really sure what I'm going to be reading next. I've got quite a pile on TBR sooner rather than later books, so I think I'm just going to blind-grab something out of the pile and surprise myself! Happy reading!
To purchase any of the books in this post, and help my local Indie bookstore, and help me buy more books, click the links above!