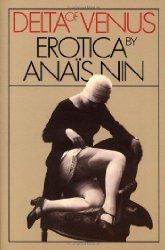 Title
:
Delta of Venus
Author
: Anaïs Nin
Copyright
: 1977 (2004)
Pages
: 320
ISBN
: 9780156029032
Publisher
: Mariner Books
Format
: Paperback
Available
: February 2, 2004
Rating
: 3/5 stars
Well, quite frankly,
Delta of Venus
was not for me. I think part of the problem was in reading the foreword that explains how Nin came to be writing erotica, and knowing that she was purposefully trying to be over the top and push the envelope, I found these stories to be neither erotic nor titillating (not that erotica is supposed to be titillating, but I think you get the idea). Instead, I found myself giggling and rolling my eyes more often than not when reading the stories. Perhaps if I didn't know her reasons for writing them beforehand, I would have approached the book differently? Who knows. As a book club pick for my book group, this was a good selection that created some great discussion, but I don't think I would actively pursue more of her erotica in the future on my own.
To purchase any of the books in this post, and help my local Indie bookstore, and help me buy more books, click the links above!