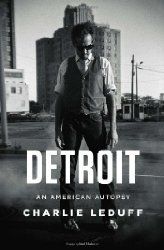 Title
:
Detroit: An American Autopsy
Author
: Charlie LeDuff
Copyright
: 2013
Pages
: 304
ISBN
: 9781594205347
Publisher
:
The Penguin Press
Author Website
:
charlieleduff.com
Twitter
:
@Charlieleduff
,
@penguinpress
Format
: Hardcover
Available
: 2-7-13
Rating
: 4/5 stars
Well, that was a depressing book. Or was it? Charlie LeDuff, after years of living away from his hometown of Detroit, decides to move his family there when he feels that LA is becoming too crowded to raise his daughter safely. Obviously, my first reaction was thinking why he would think Detroit is a safer city than LA? Maybe it's because I live near Detroit and have been there and have seen the decline and fall of the city over the last couple of years. It's not like I go there on a regular basis, and it's not like it's ever been a really safe city to start off with, but over the last couple of years, you can clearly see the city struggling to better itself while at the same time falling apart at the seams. Maybe LeDuff really didn't know how bad things were when he decided to move home, but he certainly got a shock with how bad things are there, and through his journalist's eye, he takes us on a tour of some of the even less savory stories coming out of the city.
What he shows us is a city in far worst shape than I had imagined. There seems to be corruption at every level of government, huge corporations that can barely manage to keep themselves afloat, the police and fire departments are using outdated or damaged equipment, violence running rampant in the streets, people too poor to bury their dead and leave the bodies in the morgue until they can scrape enough money together for a cremation. One almost begins to feel that there is no hope for the city of Detroit, and I found myself wondering throughout the book why LeDuff, or anyone living in Detroit for that matter, doesn't just pack up and leave? In the end, thought, LeDuff shows us that there are still a handful of good people in Detroit, and that there is a glimmer of hope, however small, and that maybe this is why people stay. Or maybe it's because Detroit is all they know. Or maybe it's because they are too poor to move away and are simply stuck in their situation. Sounds hopeless, right? That's how LeDuff's book is: It gives us a taste of something maybe good in the town, yet there is always something bad right around the corner to take it away.
Personally, there's nothing redemptive for me about LeDuff's book. I feel like they should close down the city, move the people away, and let nature continue its reclamation. But where would the people go? Would their lives be bettered in any way by moving them to a new home? It's hard to say, but much like LeDuff tries in his way to do some good, I feel something should be done to the city.
Anyway, I don't know that this is necessarily a hard book to read. LeDuff writes his book in much the same way I imagine he writes his columns for various news outlets: the sentences are short, to the point, and filled with what I perceive as journalistic tropes. But LeDuff gets his point across. I'm not really sure what the point is, as there seems to be no conclusion to his narrative, but I felt like I understood Detroit a little better after reading this book.
To purchase any of the books in this post, and help my local Indie bookstore, and help me buy more books, click the links above!