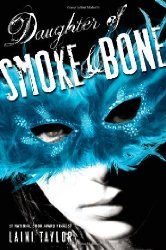 Title
:
Daughter of Smoke and Bone
Series
:
Daughter of Smoke and Bone
, Book 1
Authors
: Laini Taylor
Narrator
: Khristine Hvam
Copyright
: 2011
Pages
: 432
ISBN
: 9780316134026, 9781611132977 (audio)
Publisher
:
Little, Brown and Company
Audio Production
:
Little, Brown Young Readers
Author Website
:
www.lainitaylor.com
Twitter
:
@lainitaylor
,
@littlebrown
Format
: Audiobook
Available
: Sept 27, 2011
Rating
: 2.5/5 stars
Awards
: Audie Award for best fantasy audiobook 2011
Well, that was fairly disappointing.
Alas, I really dislike writing reviews like this, but it is what it is. I wanted to like
Daughter of Smoke and Bone
. In fact, at the start of the book, I loved
Daughter of Smoke and Bone
. I did! There are fantastic characters, fantastic world-building, fantastic story-telling, everything that I like in a book seemed to be here, so I was pretty pumped. Karou, our heroine, is smart and sassy, while Brimstone and the other Chimera are great foils for her. The mystery surrounding her past is just intriguing enough to keep my attention; the errands that Brimstone has Karou running for him just as mysterious (what are the teeth for?). The banter back and forth between Karou and her best friend, Zuzana, is laugh out loud funny in parts. Even the city around Karou, Prague, takes on a life of its own and practically becomes a character unto itself. I loved it all.
And then Akiva, the love interest, is introduced into the story, and as far as I'm concerned, this is where the book falls apart completely for me.
As soon as Akiva shows, it's off to romance-trope, purple-prose land, and it was
endless
. Chapters and chapters of "moonlight in his eyes, starbursts in my chest" sort of writing. For me at least, it ripped me right out of the story and made the second half of the book arduous at best. I think if the entire second half of the book had been written more like the first half, I would have been fine with it. Even if it remained the same, but was at least trimmed down a little so that it didn't go on and on for chapters of pining for Akiva...
Anyway, I can see the potential of a fantastic story here. The world-building is really strong, and I think Karou is definitely a better character without Akiva (and not to spoil too much, but given the way
Daughter of Smoke and Bone
ends, there is a little hope for the follow up,
Days of Blood and Starlight
- even though that title doesn't fill me with much confidence). However, if
Days of Blood and Starlight
ends up like
Daughter of Smoke and Bone
, I'm going to be hard-pressed to continue on with the story (I'm assuming this is a trilogy, since almost all YA fantasy is a trilogy these days).
So, there it is. A fantastic book that completely loses itself in its over-the-top love story. Laini Taylor is a great writer. Her imagery is vivid and her prose is fluid, but I just feel like the second half of the book got away from her and carried her along in its excessiveness. I'll definitely give her a try again, and more than likely it'll be with the next book in this series, but I'm hoping she can rein in the purple prose a little.
And a word on the audio production. I really think this was the saving grace for me for this book. Khristine Hvam does such a bang up job with her narration. She handles all of the characters perfectly, and she is clear and easy to understand. I really think that if I had been reading this book, I would have given up well before the end, but Hvam does such an admirable job narrating the book, I was able to stick with it. I will definitely be listening to the next book in the series as opposed to reading it, as she is narrating that one as well.
To purchase any of the books in this post, and help my local Indie bookstore, and help me buy more books, click the links above!