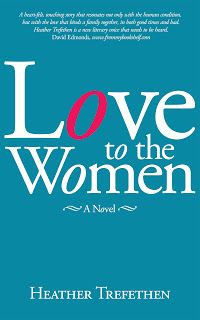 Hi, everybody! As you know, my cousin Heather has published her debut novel,
Love to the Women
, and she took some time out from her busy schedule to sit down and talk with me about her book, her writing process, her inspiration, and her experience with being a first time author.
DE: When did you know you wanted to be a writer?
HT: Probably early grade school. What I really wanted to be, though, was a screenwriter; although at the time I didn't even know there was such a thing. My imagination was always pretty much in full overdrive when I was a kid – still is. I always had scenes playing out in my head. I dreamed, then, of being a filmmaker so I could see my stories in real life on the big screen, maybe even the little screen. I thought for sure, though, that if you wanted to make a movie, you had to do the whole thing yourself from writing to filming to editing and so on. Then one night during the Oscar telecast, I heard the category Best Screenwriter announced. Talk about an epiphany. "You mean there's such a thing as that? You mean there's a person that just does the writing?" I thought to myself, "WOW! That's what I'm gonna do!" I held onto that dream forever and, even though at times I wished my hyperactive brain would take a break, I couldn't help but think up more and more stories and long for the day when everyone could enjoy them as much as I did.

DE: What was your first completed writing project?
HT: Well, I've dabbled in poetry and written a few short stories, but my first real big project was a screenplay called The Sunday Return, which I wrote during an unemployment stint back in 1994. It's the story of a self-absorbed Robert Louis Stevenson-type who can't pull away from his typewriter and his lonely daughter that dreams of marrying a handsome photojournalist who will rescue her from the doldrums of jungle living. At the time, I just wanted to see if I could do it, if I could actually flesh something out from "Fade In" to "Fade Out". I'm sure if I dug it out to read it today I'd think it was total crap. But, at the time, I thought it was the greatest thing since The African Queen. The story itself is pretty decent, but my execution of it as a script was, hmmm. Probably not the best. It would have been better off a novel, which is what most people say about my screenplays.

DE: What was your inspiration for Love to the Women?
HT: Most of my inspiration comes from listening to music. I'll envision a scene or imagine a character in a situation and everything pretty much evolves from there. Love to the Women was inspired by John Mayer's tune, "Daughters", from his album, Heavier Things. I love that song. I can't say for sure that there was a particular scene that popped into my mind when I heard it. I think it was more the general premise of the whole story that began to germinate. I hear the tune on the radio every so often at work and it will send me right into a chapter of the book. It's kind of cool, really.

DE: When did you start writing Love to the Women?
HT: Love to the Women actually started out as a reasonably benign script back in 2004 called Wives & Daughters. I decided to switch gears and try turning it into a novel in 2010 and finished the first draft that fall. I must say, though, the book is much better than the script. The story is more palpable, the characters better defined, and the conflict heightened to a far greater degree. One thing I've discovered during this process is that there's so much more that can be told in a novel that you just can't include in a script. In a novel, you have the luxury of time. There are no constraints and I like that.

DE: You often mention seeing scenes play out in your head like a movie when you're writing. Do you cast your stories as well, or do you envision each character uniquely as they develop?
HT: Very often, I'll cast the main character(s); sometimes the minor characters, too. I find it helpful to do that because I can readily see their expressions, hear their voices, capture their mannerisms. Minor characters are more often imagined, although they might be a conglomeration of several actors. I don't usually reveal who I've cast as whom, but I will tell you that Page Reynolds has Judi Dench written all over her.

DE: Do you outline before you start writing, or do you write as you go along?
HT: I always outline. It might be sparse, but I definitely have some sort of a road map inked out before I start traveling. I have a great tendency to ramble, especially if I'm feeling a little manic. It's like having Writer's ADD. An outline helps keep me focused and on task. For screenplays, there's an old industry standard formula I follow that breaks the story down into finite increments. Since I based Love to the Women on a script, it followed that basic blueprint, although I didn't limit myself to any time frame. Every scene took as long as was necessary. Plus, I was able to add a lot more backstory, which was never included in the original screen version. The formula basically helps me outline the story into a logical series of events and I rely on it heavily. Without it, I'd be all over the map.

DE: What has your experience with self-publishing been like?
HT: It's been great. Exhausting, but great. I enjoyed the fact that I had complete control over the process and could work at my own pace. I must say, though, the learning curve for me has been incredibly steep, but not insurmountable. Prior to this venture, all I did was type and print. So, when it came to formatting files and choosing a layout style, I really had to put on my thinking cap. David gave me a lot of advice on what font to use, line spacing, etc. He's very well versed on the subject, so I trusted his judgment without reservation. Lots of research was still involved on how to get the most out of my software, what to include and what not to include when it came to front matter and back matter, how to properly phrase disclaimers, etc. Even tackling the fine art of page breaks, section breaks, and heading styles really became a challenge, but it was worth the trouble to learn it all. Even facing the daunting task of deciphering and keying HTML code for the Kindle version was worth it. It's actually been rather empowering being able to produce a product that looks professional enough to be displayed on a real live bookstore shelf. Frankly, I feel like I've just graduated from publishing school with my "perfect bound paperback" serving as my diploma. Marketing is another challenge I've had to face. While I can't say that I'm exactly ready for the public speaking and book tour scene, I have done what I can so far to get the word out. I've sent mailings out to all my Christmas Card List people, had family and friends post links on their Facebook pages, sent e-mails to other folks, and even posted a flyer on the fridge at work. While you pretty much have to take the "self" part of self-publishing quite literally, you can enlist the help of those you know when it comes to advertising. Word-of-mouth is still a very powerful tool. All in all, this has been a wonderful journey and I'm eager to face it again.

DE: Any advice to aspiring writers?
HT: Yes. Don't give up. Ever! When I was in high school, I mustered up the courage to tell a friend of mine, "I'm going to be a screenwriter." She scoffed and said, "That's stupid. You'll never be a screenwriter. There's too much competition." Completely devastated, I compartmentalized my dream in the back of my mind; never forgetting, though, that that's what I really wanted to do. A writer was who I really was. I never wrote all the time, but I always thought about it. I always had a story playing out in my head and I'd jot scenes down in a notebook or write down a funny line or idea on a slip of paper and tuck it away somewhere. It wasn't until I was in my early thirties that I decided to actually flesh out a script just to see if I could do it. I was going to be losing my job at a department store and resolved to take a month off before I hit the pavement to just write. And write I did. When I typed that final line, "Fade to Black", the joy I felt was immeasurable. I just kept saying, "I did it. I did it." That script was The Sunday Return. Since then, my dream of becoming a writer never faded, although it did periodically get compartmentalized toward the back of my mind while life's duties and responsibilities took to the forefront. But now, as I approach my 50th birthday, I feel it's time to live my dream. I found my voice and am using it, despite the possible risks. As writers, we have to be brave enough to take the criticism in stride and learn from it. Listen and learn, but don't ever let it hold you back. It often takes hundreds of baby steps to get to a point where you feel you can "share with the rest of the class", but every single step counts, no matter how small. It also takes a tremendous amount of courage to take on the publishing lions yourself, but sometimes you have to. Self-publishing no longer carries the stigma that it used to. There are a lot of really, really good books out there that have been self-published by really, really good writers. Don't think for a moment that you can't be among them. Being a writer isn't "stupid" and don't ever let anyone tell you that. Don't ever take that to heart. If you are a writer, if it is in your bones, you will rise above that sort of ignorance gracefully. When I hear discouraging words or begin to think that perhaps I'm not cut out for this gig, I seek solace in a quote my mother gave me a long time ago: "The jump is so frightening between where I am and where I want to be… Because of all I may become, I will close my eyes and leap." So, to answer your question… Any advice to aspiring writers? Yes. Take that leap of faith. You'll be glad you did.
Again, I'd like to thank Heather for taking time out to talk with me about her writing and her book. If you would be interested in learning more about Heather and her writing adventures, please stop by her blog,
In This Scene...
Heather has also graciously offered a signed copy of her novel,
Love to the Women
. Just enter below for your chance to win and good luck!
a Rafflecopter giveaway