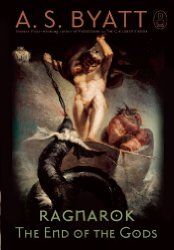 Title
:
Ragnarök: The End of the Gods
Author
: A.S. Byatt
Copyright
: 2011
Pages
: 192
ISBN
: 9780802129925
Publisher
:
Grove Press
Author Website
:
www.asbyatt.com
Twitter
:
@groveatlantic
Format
: Hardcover
Available
: February 7, 2012
Rating
: 2/5 stars
This is my second or third time with A.S. Byatt and I think it's clear her writing is just not for me. I tried reading
Possession
years ago, and it seems that there was something else of hers that I tried reading and just couldn't get into. At least I finished
Ragnarök: The End of the Gods
.
This retelling of the Norse mythology is viewed through the eyes of a young girl (a stand-in for Byatt herself) who has been moved to the countryside during the German Blitz of London in World War II. She is given a book of Norse mythology, and we experience her reactions to reading the Norse myths. I don't know what I was expecting out of this book, but this wasn't it. Perhaps I was looking for a retelling of the myths? A re-imagining? Reading about a girl reading about the myths, regardless of how they make her look at the world around her, just didn't work for me.
Byatt's writing is beautiful, don't get me wrong. She does have a way with words that is nothing short of lyrical, but I can't get into the flow of her writing. For the right person, I imagine this book would be amazing. Unfortunately, I am not that person.
To purchase any of the books in this post, and help my local Indie bookstore, and help me buy more books, click the links above!