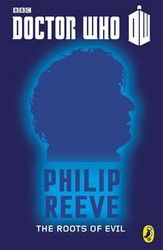 Title
:
Doctor Who: The Roots of Evil: Fourth Doctor
Series
:
Doctor Who Fiftieth Anniversary Eshorts
, #4
Author
: Philip Reeve
Copyright
: 2013
Pages
: 40
ISBN
: 9781405912129
Publisher
:
Puffin Books
Author Website
:
www.philip-reeve.com
Twitter
:
@philipreeve1
,
@PuffinBooks
,
@bbcdoctorwho
,
@DoctorWho_BBCA
Format
: ebook
Available
: 4-23-2013
Rating
: 3/5 stars
Philip Reeve takes on The Fourth Doctor in this latest Eshort celebrating the 50th Anniversary of Doctor Who. The Doctor takes Leela, who has been missing trees and nature, to the Heligan Structure, a genetically engineered tree that humans used to terraform uninhabited planets for their use. The Heligan Structures are basically the size of a small moon, so this is a fairly large tree.
Upon their arrival, they almost immediately encounter Ven (short for Vengeance-Will-Be-Ours-When-The-Doctor-Dies-A-Thousand-Agonizing-Deaths), a youth living in the Heligan Structure. It turns out that there is an entire colony living in the Heligan Structure and for some reason all the inhabitants of the Heligan want the Doctor dead...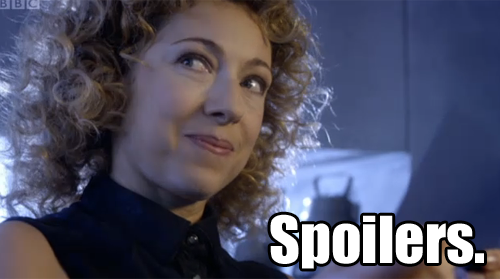 The problem here of course, is that what they are upset with Four about hasn't happened for him, as he discovers a carving of Eleven in the Heligan Structure. So Eleven was around in their past, but this hasn't happened to Four yet, who is now visiting in their future and his present. Time travel is so tricksy. The bit I didn't really like about this is that I feel that we only got half a story. It's explained, but quickly, what happened with Eleven in the past, but I still only feel like I got half a story out of the whole thing, that Four worked it out much to quickly and hence I don't really feel there was much substance to this particular Eshort. Reeve handled his portrayal of Four fine enough, but as an overall story, I think this one has been the most disappointing of the lot so far for me.
End of Spoilers!
The Fourth Doctor was portrayed by Tom Baker from 1974-81, the longest tenure of an actor as the Doctor yet. Baker's Doctor may be one of the most recognizable of the Doctors, especially in the Classic Who set, what with his long scarf and fondness for jelly babies. After Three's exile on Earth, Four took well advantage of his ability to travel in space and time and had some really grand adventures. Four was my first experience with Doctor Who when I was a kid, so he has always had a special place in my heart.