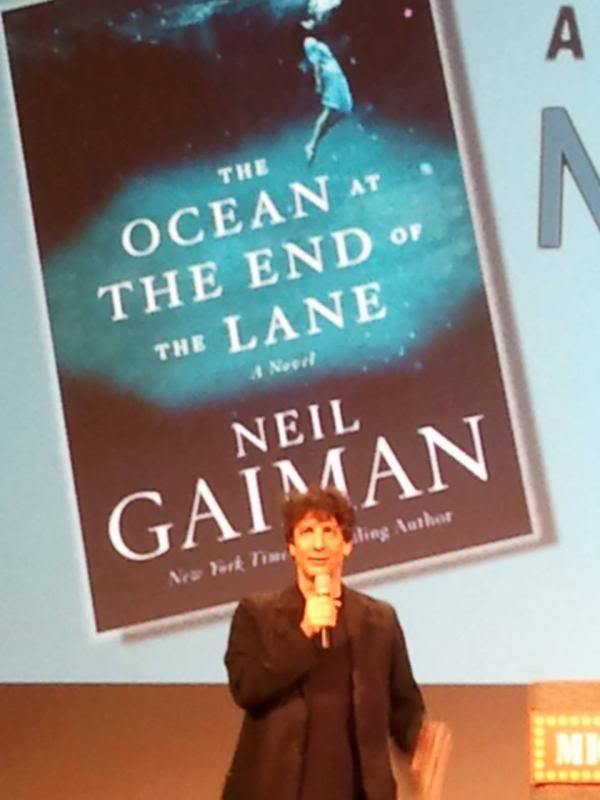 My friend Ann took this picture during his Q&A.
That right there is Neil Gaiman. I got to meet him last night. I got to shake his hand last night. I'm a little excited about that fact, not going to lie.
Nicola's Books
hosted
Neil Gaiman
in Ann Arbor last night at the
Michigan Theater
in Ann Arbor (his only stop in Michigan!) on his final US tour for his new book,
The Ocean at the End of the Lane
(which is a beautiful, terrifying book - I'll have a proper review posted up this week). He ended up arriving almost an hour and a half late due to circumstances wildly out of his control (
the unfortunate airline crash in San Francisco on Saturday
). However, he was at the theater within 45 minutes of touching down at DTW and was apologetic, humble and sincerely grateful that we all waited patiently for him. Before he came out on stage, he scarfed down some sushi and then signed 200 books for people that couldn't stay for the signing after the reading. He read a little from
The Ocean at the End of the Lane
, answered some audience questions that had been written on note cards prior to his arrival, told some funny stories about his travels getting to us, and then read some from
Fortunately, the Milk
, his kid's book coming out in September. He then ran off to the signing table and signed I don't know how many books for all 1700+ people in the theater, never complaining, always smiling and having a kind word for each person, even though the team from Nicola's had that line running like a well-oiled assembly line machine.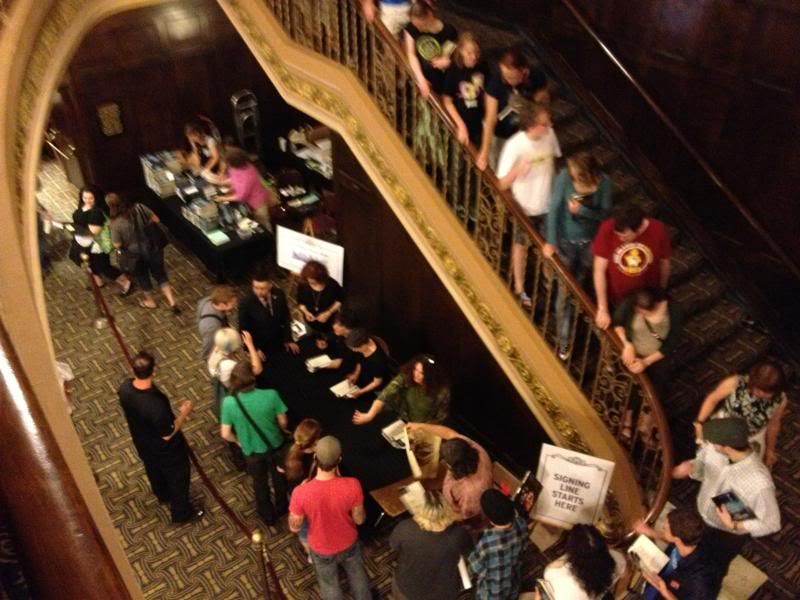 In line, waiting for the signing.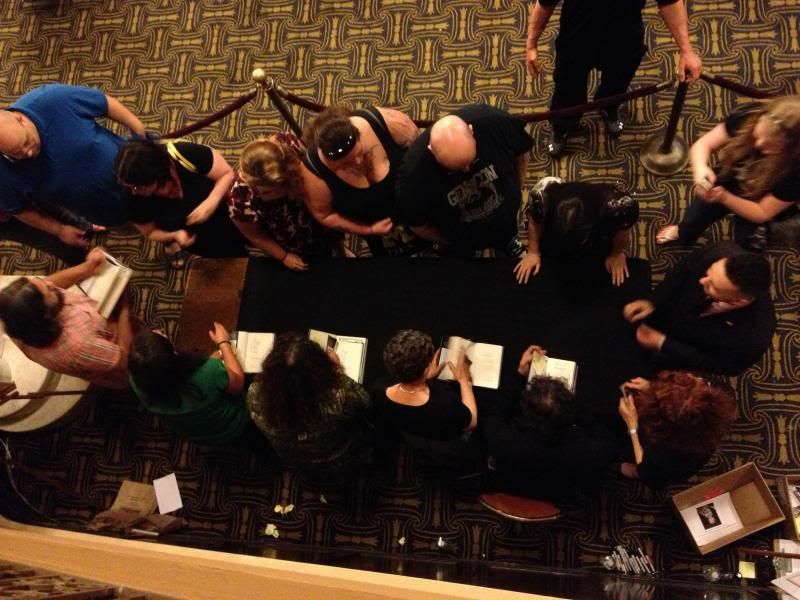 He's right there!! (And the lovely Nicola herself helping the line move along)
And... a blurry picture of Neil Gaiman signing my book! **squeeeeee**
The man was fantastic. He was never grumpy about all the people there waiting to get books signed. He made the theater change the signing rules back to what they were supposed to be. Originally, we could get as many copies of
Ocean
signed as we wanted, and then one additional item. Because of his delay, the theater changed it to one item total. Neil let them know on the way from the airport that he wanted it back to the original rules, since it wasn't our fault that he was late. So yeah, Neil Gaiman is a superstar in my book.
After he signed my books, he took the time to shake my hand and thanked me for being patient. I'm a little sad that he won't be touring anymore in the US, but I can understand why he can't do it anymore. The number of people there last night was amazing, and I can't imagine how late he was there, as we left somewhere around 11pm, and there was still probably half of the theater left to still go through the signing line.
Needless to say, the evening was a rousing success and props to Neil Gaiman, Nicola's and the Michigan Theater for helping to make such a fantastic night.
Happy reading!
To purchase any of the books in this post, and help my local Indie bookstore, and help me buy more books, click the links above!