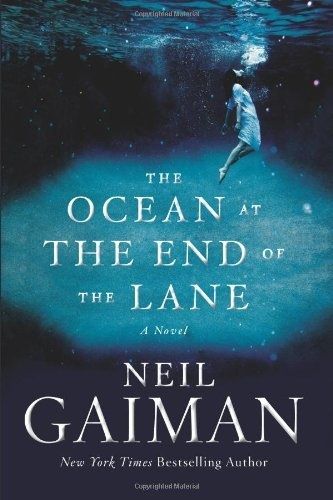 Title
:
The Ocean at the End of the Lane
Author
: Neil Gaiman
Copyright
: 2013
Pages
: 192
ISBN
: 9780062255655
Publisher
:
William Morrow
Author Website
:
www.neilgaiman.com
Twitter
:
@neilhimself
,
@WmMorrowBks
Format
: Hardcover
Available
: June 18, 2013
Rating
: 5/5 stars
I'm not entirely sure that I would be able to do justice in describing Neil Gaiman's
The Ocean at the End of the Lane
. The book is equal parts nostalgia, beauty, terror, and magic. Nostalgia for a simpler time when magic was all entirely too possible for a young child; the book is beautifully written, nothing forced, it just is; Gaiman's writing is capable of creating such terrifying imagery to what can scare a child, something that would not be possible in less deft hands; Gaiman has created a magic all his own for adults, by reminding us that once upon a time, our childhood selves did believe in magic, and somehow he reawakens that sense of wonder in this small volume he has crafted. It's a wonder that such a slim little book is capable of manifesting so many emotions in such a short time. This is Neil Gaiman we're speaking of, so of course it really comes as no surprise to me when I really think about it.
I think I may just leave this review, for what it's worth, at that. I mean, I could go on and on about the book, but I don't want to give anything away. The magic of the book is in letting it speak for itself, telling you its story, and letting you take it all in.
So, if I haven't made it obvious, this is a book worth reading. I know it will be topping my list of books for the year, and I know it's going to be one that I will be revisiting over and over again through the years. This book and I are going to become best friends.
Go and read it. Read it again. You won't be sorry.
Also, check out my
post
on the night I met Neil Gaiman for his signing of
The Ocean at the End of the Lane
. The man is a rock star in the writing world.
To purchase any of the books in this post, and help my local Indie bookstore, and help me buy more books, click the links above!