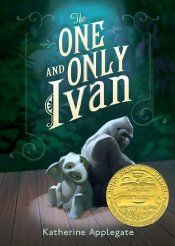 Title
:
The One and Only Ivan
Author
: Katherine Applegate & Patricia Castelao (Illustrator)
Copyright
: 2012
Pages
: 320
ISBN
: 9780061992254
Publisher
:
HarperCollins
Author Website
:
theoneandonlyivan.com
,
www.pcastelao.com
Twitter
:
@kaauthor
,
@HarperCollins
Format
: Hardcover
Available
: January 17, 2012
Rating
: 5/5 stars
Truth be told, my reading this book and my reviewing are somewhat far removed, but as I'm trying to get caught up on my reading/reviewing for the year, I'm going to talk about the impressions the book left me with, even after this amount of time. Ivan, a gorilla, has lived most of his life in a circus-themed shopping mall where he has been the star. There is also Stella, the elephant, and Bob, and stray dog who has befriended Ivan and Stella. When the owner of the mall decides that Ivan and Stella aren't pulling in the audience that they should, he purchases Ruby and tries to force her to perform for the shoppers, but she is young and scared and takes to Stella immediately. What stands Ivan apart from other gorillas is that he likes to draw, and the daughter of the custodian of the mall helps nurture this talent in him. As Stella grows older, Ivan promises to Ruby that he will watch over and find a way to get her out of the mall, even though he's really not sure how he's going to be able to keep that promise.
What follows from there is a story full of love, hope, and humanity. Ivan proves to be able to reach above his lot in life and keeps his promise for Ruby, but it's really how he goes about keeping that promise that is so amazing. This was a book that I'm glad that I read, and I know I'm not doing it any justice with this review, so just trust me when I say that this is a book full of magic and love, and if you have small children, this would be a perfect book to read aloud to them and to share and to talk about.
Highly recommended.
To purchase any of the books in this post, and help my local Indie bookstore, and help me buy more books, click the links above!