Happy release day to Meg Waite Clayton for
The Wednesday Daughters
! You can find her new book at your favorite bookstore today, and I highly recommend picking it up.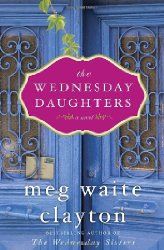 Title
:
The Wednesday Daughters
Author
: Meg Waite Clayton
Copyright
: 2013
Pages
: 289
ISBN
: 9780345530288
Publisher
:
Ballantine Books
Author Website
:
www.megwaiteclayton.com
Twitter
:
@MegWClayton
Format
: ARC provided by author for honest review
Available
: July 16, 2013
Rating
: 5/5 stars
So, I'm not going to lie. When I received
The Wednesday Daughters
in the mail, I anxiously picked it right up and started reading, having loved Meg Waite Clayton's two previous novels. Then I thought for a moment that I was reading something a little too familiar. I felt like
The Wednesday Daughters
was treading too similar waters, that the characters from
The Wednesday Sisters
had been dropped into the setting of
The Four Ms Bradwells
, where friends go off to a cottage in the woods to deal with a major life change. Well, I was wrong. Yes, it does seem at first as if the
Daughters
borrow heavily from her previous two novels, but that's not really the case. At all.
The book opens with three of the Wednesday Daughters, Julie, Anne Page, and Hope, arriving at Ally's (Hope's mother) writing cottage shortly after Ally's death. They've come here to help Hope sort through her mother's belongings, and almost immediately on their arrival, Hope begins to discover there is an entire portion of her mother's life that she didn't know about. What follows is a lovely story on the discovery of family ties and friendships, and how those ties can bind, even through the years and beyond death.
Intermixed in the story is a biography of sorts of Beatrix Potter. Ally had been working on this biography when she died, and how Clayton has her go about working on it is actually quite clever.
Quite frankly, once I really got into the story, I couldn't put it down. I actually read the entire book in two sittings, and I'm honestly embarrassed by my initial reaction to the book. Meg Waite Clayton has clearly had some amazing female friendships in her lifetime, as she knows how to write about them and create realistic and believable characters and the experiences and emotions, both good and bad, that flow between friends who are more family and who have known each other their entire lives. I liked how
Daughters
isn't a direct sequel to
Sisters
. Yes, there is mention of the Wednesday Sisters from the first book, and there are even guest appearances, but this isn't really their story. This story deals directly with the Wednesday Daughters, and the challenges that their generation can face in the real world. You don't need to read
Sisters
to enjoy
Daughters
, but being familiar with the first book does enhance the reading experience for
Daughters
.
I love Meg Waite Clayton's writing. She writes in such a familiar fashion that is so easy to read, and moves the story along with such beautiful imagery. I enjoy her characters, I enjoy her pacing, I enjoy her language. So basically, ignore everything I said at the beginning of this review and pick up the book. If you've read her previous novels, you'll be reminded why Clayton is such a great writer, and if you are new to her writing, you'll be pleasantly surprised.
Highly recommended and happy reading!
To purchase any of the books in this post, and help my local Indie bookstore, and help me buy more books, click the links above!