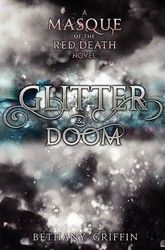 Title
:
Glitter & Doom: A Masque of the Red Death Story
Series
:
Masque of the Red Death
Author
: Bethany Griffin
Copyright
: 2013
Pages
: 50
ISBN
: 9780062225665
Publisher
:
Under the Green Willow
Author Website
:
www.bethanygriffin.com
Twitter
:
@_bethanygriffin
,
@GreenwillowBook
Format
: ebook
Available
: 3-26-13
Rating
: 4/5 stars
This is just a short bridge between
Masque of the Red Death
and
Dance of the Red Death
, so there really isn't a lot of necessary information in this book (having not read
Dance
yet, this is an assumption, but I'd be surprised if there was something vital to the overall story in this novella). What we have here, though, are a couple of scenes seen through April's eyes, so it's interesting to get her perspective on what's going on around her. I am anxious to get to
Dance of the Red Death
. These books constantly surprise me by how much I enjoy them!