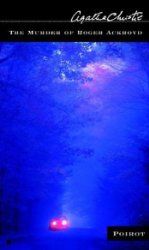 Title
:
The Murder of Roger Ackroyd
Series
:
Hercule Poirot
, Book 4
Author
: Agatha Christie
Copyright
: 2004 (1926)
Pages
: 358
ISBN
: 9780425200476
Publisher
:
Berkley
Author Website
:
www.agathachristie.com
Twitter
:
@penguinusa
Format
: Paperback
Available
: August 31, 2004
Rating
: 5/5 stars
My reading group's selection for July was
The Murder of Roger Ackroyd
, so instead of rehashing what I wrote before, I'm just going to copy and paste my thoughts from when I first read the book several years ago.
I'm still relatively new to the world of Agatha Christie as The Murder of Roger Ackroyd is only the third book that Dame Agatha wrote that I have read. I've heard that she has been known to reuse plot devices and that sometimes, some of her stories can become repetitive, but if they are all written like The Murder of Roger Ackroyd, I would be happy with that. This will easily top my list of favorite books.

I don't want to go into too much detail, as I'm always afraid that I'll let something slip that will spoil the end of the story for newcomers to Christie's writing. The book is so complex that I wouldn't even know where to begin. There is a suicide, blackmail, cocaine abuse, secrets, and of course, murder. In his usual flair, Hercule Poirot (who happens to be in the right place at the right time) is brought in to investigate. Through the course of the book, suspicion is plainly brought on each of the main characters in the Ackroyd household, and you will never have a clue as to "who done it" until the very end. Every chapter, I was sure I knew who had committed the murder, yet every time I was wrong. An ingenious book.
To purchase any of the books in this post, and help my local Indie bookstore, and help me buy more books, click the links above!