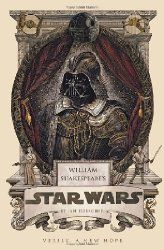 Title
:
William Shakespeare's Star Wars
Author
: Ian Doescher
Copyright
: 2013
Pages
: 176
ISBN
: 9781594746376
Publisher
:
Quirk Books
Author Website
:
www.iandoescher.com
Twitter
:
@iandoescher
,
@quirkbooks
Format
: Hardcover
Available
: July 2, 2013
Rating
: 4/5 stars
I'm fairly certain that one on going into this book is going to take it seriously. Shakespeareans and hardcore Star Wars fans could very well be appalled by the very existence of this book, but I think geeks in general will love this. The book is exactly what the title says it is, the entirety of Episode IV (
A New Hope
- here titled,
Verily, A New Hope
) presented in all the glory of iambic pentameter as if the Bard himself had written it, complete with archaic turns of phrase and punctuation. Ian Doescher is clearly well-versed in Shakespeare's writing style to have pulled this off so well.
Is it goofy? Yep. Is it a great work of literature? Nope. Is it still fantastic fun? Hell, yes! Do I want to see the other two episodes from the original trilogy presented just the same? Absolutely! Everything about the book and presentation, from the writing to the illustrations of scenes from the movie as if they were from an Elizabethan stage production (the illustrations are made to look like wood engravings) is just spot on to create a book that is damn fun to read.
Sometime soon, I think I may need to pop the Bluray of
A New Hope
in and read this while watching it at the same time. That should be an interesting combination! Happy reading!
To purchase any of the books in this post, and help my local Indie bookstore, and help me buy more books, click the links above!