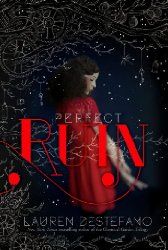 Title
:
Perfect Ruin
Series
:
The Internment Chronicles
, Book 1
Author
: Lauren DeStefano
Copyright
: 2013
Pages
: 368
ISBN
: 9781442480612
Publisher
:
Simon & Schuster BFYR
Author Website
:
laurendestefano.com
Twitter
:
@LaurenDeStefano
,
@simonteen
Format
: Hardcover (I borrowed an ARC from a fellow blogger)
Available
: October 1, 2013
Rating
: 5/5 stars
I'll just put it right out there, I love Lauren Destefano's writing. Love it. Several years ago, I received an ARC of
Wither
, the first book in
The Chemical Garden Trilogy
, and I honestly wasn't so sure about it. Based on the blurb, I didn't think I was going to like it at all, and to be honest, after reading, I still wasn't
so sure
but I liked the premise and world-building enough to check out the second book,
Fever
. That was when my love was
firmly cemented
for her writing. Now, to be fair, I haven't yet read
Sever
, the final book in the trilogy, only because I wasn't ready for the books to end and didn't want to wait too long until her next book came out. I'll be remedying that this week.
To see the jump in crafting her writing from
Wither
to
Fever
, and now onto
Perfect Ruin
, has been a pleasure. DeStefano is clearly learning how to hone her writing, and it is obvious in
Perfect Ruin
. Her style is so immersive and minimalist, she can pull you into a story with such little effort and ease. I quickly grew attached to not only the main characters of the story, but the secondary characters as well. Everyone in the book is an important part in how the story plays out, and she doesn't squander any of her characters.
The story takes place on Internment, a floating city in the sky above what I believe is Earth. Because of the limited space for the current population and no room for an increase in that number, the people of Internment live by some fairly strict rules set in place by the ruling family to make sure the peace is kept (Betrothals, birthing queues, forced lifespans among these rules). The people of Internment live in a forced peace, mostly content with their lives on the floating island, but there are some that wonder what is at the edge of Internment and what is on the ground below them. Those that get too close to the edge are never the same afterward, having been changed both mentally and sometimes physically by the experience, but what it is that forces these changes is never quite explained. In fact, while there is a tremendous amount explained about the workings of the city of Internment (if not explained outright, then through the explanations and reactions of the characters), but there is so much left to discover: What is Internment, exactly? Why is it floating above the Earth? What keeps it afloat? Much of this is kept secret from the reader, much like the residents of Internment are kept in the dark, and I think (hope) we'll find out the answers to these questions as they do. (I already have my suspicions. I'll be curious to see if I'm correct or not.)
These and many more questions secretly float around in the head of Morgan Stockhour. She knows that these thoughts would label her as an irrational, but much like her brother, Lex, who did get to close to the edge of Internment and is now paying the price, she can't get the thoughts out of her head. She knows that she should follow the rules, finish her schooling, marry her betrothed, and carry with her life like she should. She just can't; her mind wanders to the edge too frequently. When the first murder in a generation occurs, it throws the tight knit community into turmoil. Morgan finds herself in increasingly difficult situations, she slowly begins to realize that life on Internment may not be all that it seems to be. The cliffhanger ending to the book is pitch perfect, seriously leaving me gasping for more! I finished the last sentence and had to put the book down for a moment before going back and re-reading the last bits again. The sense of adventure and wonder that I was left with was palpable and I can't believe that I have to wait until who knows when for the next book. Alas and alack, first world problems and all that, right?
Needless to say, DeStefano has created a damned fine book. She avoids some of the YA stereotypes in this volume (Hello, lack of love triangle! So refreshing to see you again!) which I find as a huge plus for this book. Her characters are believable, and I feel for each and everyone of them. The mystery of Internment is fantastic, and as for what that happens next? Well, I will be waiting with bated breath for the next volume of
The Internment Chronicles
. Thank you, Lauren DeStefano, for crafting us such a fantastic book!
Happy reading!
To purchase any of the books in this post, and help my local Indie bookstore, and help me buy more books, click the links above!