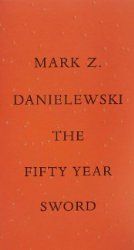 Title
:
The Fifty Year Sword
Author
: Mark Z. Danielewski
Copyright
: 2005
Pages
: 288
ISBN
: 9780307907721
Publisher
:
Pantheon
Author Website
:
MZD
Twitter
:
@markdanielewski
,
@PantheonBooks
Format
: Hardcover
Available
: October 16, 2012
Rating
: 2/5 stars
Really more a concept than an actual story/book, Mark Z. Danielewski's
The Fifty Year Sword
is a horror story, of sorts. The story is told from the point of view of five children, in one long stream of conscious dialogue, with the only distinction about which child is speaking made through the color of the quotation marks set around each sentence. It almost reads as one large, run-on paragraph, so it would seem that the children almost speak in a collective, each continuing the sentence from the previous speaker. I gave up fairly quickly trying to determine who was speaking and just read through the story as if it were being told from just one person.
The story, as it were, is simple enough (and is really nothing more than a glorified short story drawn out into a 280+ page book). The five children are at a Halloween party when a stranger arrives carrying a long black box. The story the stranger tells is of the Fifty Year Sword, and his journey to acquire it. What follows is a display of the power of the sword, much to the dismay of one of the party goers. And that's it. The story the stranger tells is vaguely atmospheric, but the ending is reasonably predictable given the outcome of the strangers journey and his story.
About the length of the book. As I stated earlier, it's a glorified short story, and all the text in the book is presented on the left-hand page only. If there is some significance to this placement, it went above my head. I'd be willing to bet there aren't more than 40 words per page, and pages with that much text are few and far between. This was released as an ebook as well, and I think that the ebook had animated graphics and music accompanying it, so I think this was meant to be viewed on an ereader as opposed to something actually physically published. The story has also been performed live, on Halloween, as a shadow show, and I have a feeling this is where the true impact of the story would be felt, but presented in this static, printed format, the story falls short.
I don't think I'd actually recommend this book to anyone except those that enjoy uniquely published works that have physical distinction that sets them apart from other physical books, which is the only reason I'm keeping this in my library.
To purchase any of the books in this post, and help my local Indie bookstore, and help me buy more books, click the links above!