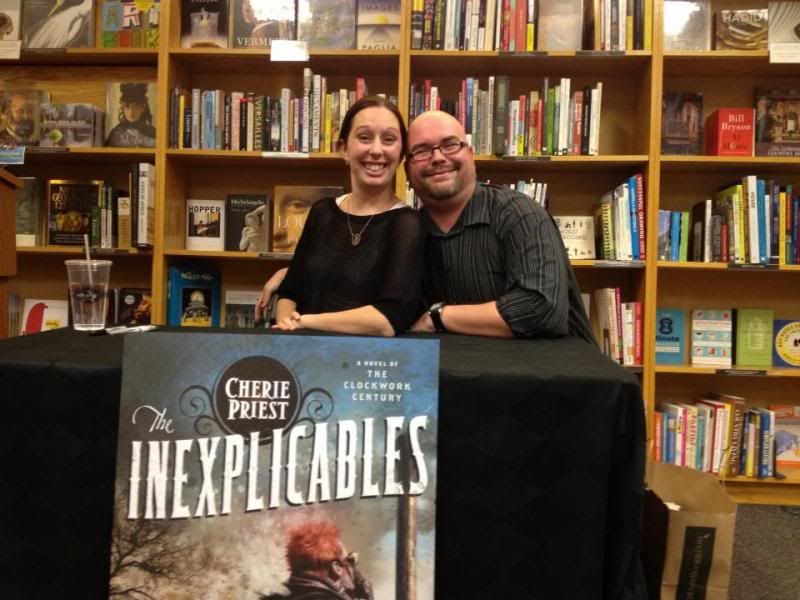 You guys! YOU GUYS!! Cherie Priest announced a new book coming in September! (I totally stole this right off the
Barnes & Noble Book Blog
) ((& I really adore Cherie Priest - that's she and I in the pic up there when she was doing a signing at
Schuler Books
in 2012 - so I'm SUPER excited about this!!))
With the major story arc of Clockwork Century concluded and no new Clockwork novels in the foreseeable future, what's your current project?

The thing I'm most excited about—and I do mean ridiculously excited—is a novel coming in September through Roc entitled Maplecroft. I've been fiddling with the project for several years; in fact, I think I starting drawing up the notes back before Boneshaker was published in 2009. It's a return to my horror roots, I suppose you could say. There's a high and a low pitch for it, so I'll just give you both:

High pitch: Maplecroft is a 19th-century gothic epistolary novel, a love letter to Dracula as filtered through Lovecraft.

Low pitch: It's Lizzie Borden fighting Cthulhu with an ax.

One day I found myself down a research rabbit hole on the internet, and stumbled across the [Borden] murder trial transcripts…and they made for fascinating reading. The case was much stranger than a nursery rhyme would lead you to believe, and some of the more peculiar details gave me the idea for Maplecroft. I finally sat down and wrote it last year, and Roc took a chance on it. So here it comes! And just to be clear, this is not an alternate history of the trial, or anything so specific as that; this is what happens afterwards. With fish people.
It's Lizzie Borden fighting Cthulhu with an ax.
Have I mentioned that I adore Cherie Priest?!