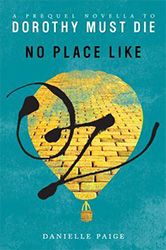 Title
:
No Place Like Oz
Series
:
Dorothy Must Die
Prequel
Author
: Danielle Paige
Copyright
: 2013
Pages
: 196
ISBN
: 9780062280763
Publisher
:
HarperCollins
Twitter
:
@daniellempaige
,
@HarperCollins
Format
: eBook
Available
: November 12, 2013
Rating
: 4.5/5 stars
Well, this is certainly an unexpected surprise! To be honest, I wasn't sure what to expect going into this novella prequel to the upcoming
Dorothy Must Die
(see my previous post), but if that book is as good as this prequel is, I'm going to thoroughly enjoy it.
It's been a couple of years since Dorothy returned from Oz, and life has slowly gone back to normal on the farm. Dorothy was the focus of a bit of celebrity status for a short time, but as all things, interest in her surviving the tornado waned. Aunt Em and Uncle Henry have told Dorothy to keep her stories of Oz to herself, as nobody likes a storyteller, since no one would believe her stories anyway. On the occasion of Dorothy's Sweet Sixteen birthday party, which turns into a disaster, she wishes nothing more than to be able to return to Oz. To her surprise, there is a birthday present waiting for her in her bedroom, a pair of dazzlingly red high heels...
Knowing exactly what they are for, she quickly puts them on, just as Aunt Em and Uncle Henry come into her bedroom. As she takes several steps, Aunt Em and Uncle Henry are swept with her and Toto to Oz, realizing now that she wasn't telling a tall tale. However, things aren't as Dorothy left them in Oz. Time works differently in Oz than it does in our world, and many years have passed since she was there last and not everyone remembers her anymore. The Scarecrow isn't King of Oz, as Ozma has taken her rightful place on the thrown. Glinda has gone missing. And what's with the shoes?
Seriously, I thoroughly enjoyed Danielle Paige's take on Oz. It's a wonderful place, but is equally dangerous as it is magical. She handles Aunt Em and Uncle Henry's amazement at Oz perfectly, and her version of Ozma is fantastic. Her writing is very visual, as I could clearly picture in my mind every moment of the book. I read this in one sitting (which for me these days says something) and while I vaguely had the ending predicted, it still played out perfectly.
I'm highly anticipating the release of
Dorothy Must Die
and subsequent books in the series. I'm sure Oz purists will have a hard time enjoying this book, but for those that can handle a revisionist version of Oz, I'd highly recommend this series.