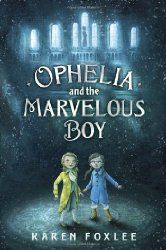 Title
:
Ophelia and the Marvelous Boy
Author
: Karen Foxlee
Copyright
: 2014
Pages
: 240
ISBN
: 9780385753548
Publisher
:
Knopf Books for Young Readers
Twitter
:
@randomhousekids
Format
: Hardcover
Available
: January 28, 2014
Rating
: 5/5 stars
I received
Ophelia and the Marvelous Boy
by Karen Foxlee from Random House Kids early last week and while I was in the middle of some other books at the time, I thought I'd at least sit down and read a couple of chapters to get a feel for the book. Half the book later I realized I needed to set it aside or I wasn't going to be getting to bed at any sort of a reasonable hour that night.
Foxlee takes the fairy tale
The Snow Queen
and gives it a lightly modern spin. In an unnamed town, Ophelia's father has taken a job organizing an exhibit of swords at an unnamed museum, being the international expert on swords that he is. Ophelia and her sister, Alice, try to find ways to amuse themselves while their father is hard at work on the exhibit. Exploring on her own one day, Ophelia discovers a young boy locked away in a room deep in the sprawling museum. She befriends the boy, and the story he tells her of how he came to be locked away in the room in the museum with the name the Marvelous Boy is its own story within the story.
As Ophelia journeys through the museum on various quests to help the Marvelous Boy escape so that he can finally defeat the Snow Queen, she creates her own fairy tale. There are elements here that will be familiar with all readers of fairy tales, but Foxlee handles them all beautifully, so that you don't really feel like you are treading too familiar water. I found myself re-reading entire chapters because I simply loved the way that Foxlee was telling Ophelia's story. It's a middle grade book, so there are elements that are fairly predictable and foreshadowed rather heavily, but even knowing how the story was going to end, I still enjoyed every bit of it. There is an ethereal quality to the story that is both charming and magical. I don't want to give too much away about the ending, but I thoroughly enjoyed the fact that Ophelia doesn't try to handle everything on her own, as in other young reader books. I find that annoying. I suppose it's to instill a sense of independence in young readers, but sometimes there are things in life that are just too much for a young person to handle, and it's perfectly normal to go to your parents for help, which Ophelia does. This was refreshing for me.
I think anyone who enjoys a good fairy tale and a beautifully written story will absolutely enjoy this book. Highly recommended!
Ophelia and the Marvelous Boy
by Karen Foxlee will be released through
Knopf Books for Young Readers
on January 28, 2014.
To purchase any of the books in this post, and help my local Indie bookstore, and help me buy more books, click the links above!
I received this ARC for free from the publisher for a fair and honest review.