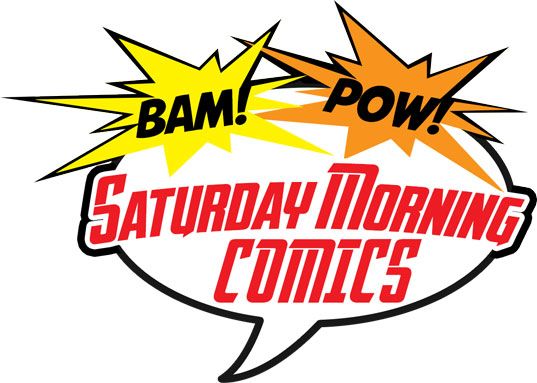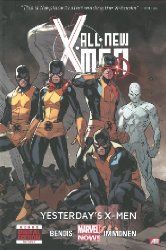 Title
:
All-New X-Men, Vol 1: Yesterday's X-Men
Series
:
X-Men
Authors
: Brian Michael Bendis, art by Stuart Immonen
Copyright
: 2013
Pages
: 136
ISBN
: 9780785168201
Publisher
:
Marvel Comics
Twitter
:
@Marvel
Format
: Hardcover
Available
: April 9, 2013
Rating
: 4/5 stars
Characters:
Beast
Storm
Tempus
Cyclops
Emma Frost
Magneto
Iceman
Kitty Pryde
Triage
Magik
Beast [1]
Iceman [1]
Cyclops [1]
Angel [1]
Marvel Girl [1]
Wolverine
Benjamin Deeds
In one of the more interesting story lines to come out of
AvX
, Beast decides that the only way for Cyclops to see what damage he is doing by trying to bring about a mutant revolution is to go back in time and bring the original five teenage X-Men (Cyclops, Marvel Girl, Beast, Iceman, and Angel) to the present, to either shock the current Cyclops into realizing what he has become, or to make sure that the teenage Cyclops does all that he can to not become like his current self.
Honestly, there isn't a lot that goes on in this story arc, which isn't a bad thing. The teenage X-Men need time to understand what exactly is happening in their future, and if they were to throw everyone into a wild adventure right off, it would have felt out of place. Not that there isn't adventuring to be had. The teenage X-Men are able to confront Cyclops and Magneto while they are trying to rescue/recruit another new mutant to their new Charles Xavier School for Gifted Youngsters (the former location of Weapon X), and since this is a comic, of course this meeting can't go down without a fight. But really, this volume is about coming to terms: current Cyclops and crew coming to terms with what he did during the Phoenix Event; teenage X-Men coming to terms with what their future has in store for them; everybody else coming to terms with the fact that current Beast did what he did by bringing them to the teenage X-Men to the present. Of all the characters, it's young Jean Grey who seems to mature the most rapidly, and I'm excited to see what is in store for her character. Jean Grey has always been my favorite character (in any and all of her identities), so to have her back in the X-Universe in any sort of fashion is exciting for me.
Bendis does an admirable job of holding everything together nicely with this story. I think his big, sprawling crossovers always end up a little too big and sprawling, but he can handle a single issue story line and character development quite nicely. Stuart Immonen's art is very clean and fresh, and I like seeing his take on the original X-Men.
While not a lot happens, I'm anxious to see where this story line is going to go, and see how the teenage X-Men deal with learning even more about what has happened over the years to get them to this point.
To purchase any of the books in this post, and help my local Indie bookstore, and help me buy more books, click the links above!