"Waiting On" Wednesday is a weekly event, hosted by
Breaking the Spine
, that spotlights upcoming releases that are eagerly anticipated.
Happy New Year!
My "can't-wait-to-read" selection for this week is: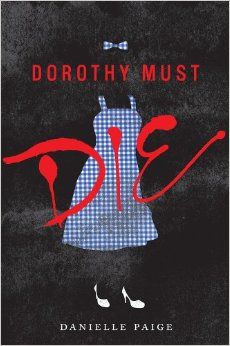 Dorothy Must Die
by Danielle Paige
Product Description:
I didn't ask for any of this. I didn't ask to be some kind of hero.
But when your whole life gets swept up by a tornado—taking you with it—you have no choice but to go along, you know?
Sure, I've read the books. I've seen the movies. I know the song about the rainbow and the happy little blue birds. But I never expected Oz to look like this. To be a place where Good Witches can't be trusted, Wicked Witches may just be the good guys, and winged monkeys can be executed for acts of rebellion. There's still the yellow brick road, though—but even that's crumbling.
What happened?
Dorothy. They say she found a way to come back to Oz. They say she seized power and the power went to her head. And now no one is safe.
My name is Amy Gumm—and I'm the other girl from Kansas.
I've been recruited by the Revolutionary Order of the Wicked.
I've been trained to fight.
And I have a mission:
Remove the Tin Woodman's heart.
Steal the Scarecrow's brain.
Take the Lion's courage.
Then and only then—Dorothy must die!
I stumbled across this book when I was perusing
GoodReads
one day and it caught my eye. The Oz books are some of my favorite stories, and I don't mind revising the story a little, but not all of them are to my liking. For instance, Gregory Maguire's
Wicked
? Did NOT like it, at all. The Broadway production of
Wicked
? LOVE it. The film,
Return to Oz
, made in the 80s, is great, but don't get me started on the mess of a film from Disney,
Oz the Great and Powerful
. I can't really put my finger on what makes a certain adaptation/retelling/revision work for me and what doesn't, but I'm going to give this one a try. I've got the eBook prequel,
No Place Like Oz
, on the iPad, ready to start reading this morning, so I'll be back later in the day to leave my thoughts on that.
Dorothy Must Die
will be released on April 1, 2014, from
HarperCollins
.
Want to preorder a copy of the book? Just click here!