"Waiting On" Wednesday is a weekly event, hosted by
Breaking the Spine
, that spotlights upcoming releases that are eagerly anticipated.
My "can't-wait-to-read" selection for this week is: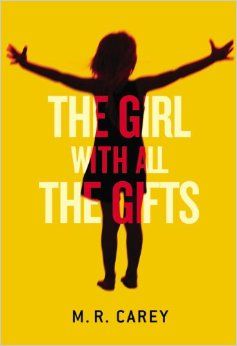 The Girl with All the Gifts
by M.R. Carey
Product Description:
Melanie is a very special girl. Dr Caldwell calls her "our little genius."

Every morning, Melanie waits in her cell to be collected for class. When they come for her, Sergeant keeps his gun pointing at her while two of his people strap her into the wheelchair. She thinks they don't like her. She jokes that she won't bite, but they don't laugh.

Melanie loves school. She loves learning about spelling and sums and the world outside the classroom and the children's cells. She tells her favorite teacher all the things she'll do when she grows up. Melanie doesn't know why this makes Miss Justineau look sad.

The Girl with All the Gifts is a sensational thriller, perfect for fans of Stephen King, Justin Cronin and Neil Gaiman.
I discovered this series through
Facebook
, where they have been releasing a chapter per 100 likes to the page. As of today, they are up to chapter seven, and I can't wait to get this in my hands to read. There is just something about these few short chapters that's already sucked me into the book, and I'm wildly curious to see what the outcome of this story is!
The Girl with All the Gifts
will be released on June 10, 2014, from
Orbit Books
.
Want to preorder a copy of the book? Just click here!