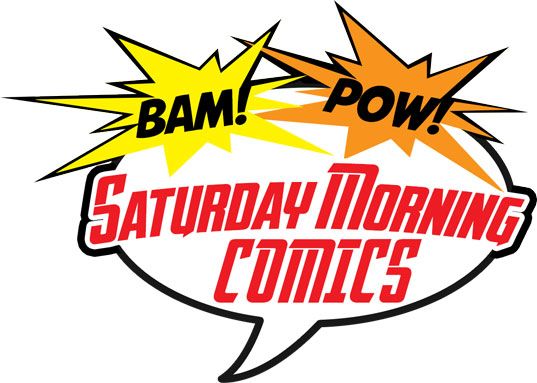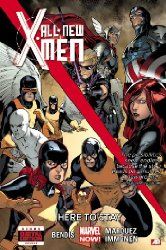 Title
:
All-New X-Men, Vol 2: Here to Stay
Series
:
X-Men
Authors
: Brian Michael Bendis, art by David Marquez & Stuart Immonen
Copyright
: 2013
Pages
: 136
ISBN
: 9780785168218
Publisher
:
Marvel Comics
Twitter
:
@Marvel
Format
: Hardcover
Available
: June 11, 2013
Rating
: 4/5 stars
Characters:
Marvel Girl [1]
Kitty Pryde
Cyclops [1]
Wolverine
Storm
Angel [1]
Angel
Mystique
Iceman [1]
Beast [1]
Madame Hydra
Thor
Captain America
Spider-Woman
Hulk
Hawkeye
Beast
Iceman
Sabretooth
Lady Mastermind
Emma Frost
Cyclops
Magneto
Magik
Krakoa
Stepford Sisters
Maria Hill
The young, time-displaced original X-Men continue to try to find their way in a future world that they have very little capability of understanding. Again, not much happens to move the story along in this volume, it still seems to be more character development. Young Cyclops and Wolverine have an argument (nothing new there, future or past); Mystique starts to undermine young Cyclops' reasoning about what is happening in the world; young Angel finally finds a drastically changed version of his future self and has a hard time coming to grips with anything the future has in store for him; both Angels take on a Hydra cell, and when the Avengers intervene, young Cyclops convinces Captain America to let him try to fix things; Cyclops and his current team of X-Men try to recruit students from the Jean Grey School for his new school. While all of this seems like a lot, it's what goes on in the background that really makes this volume stand out. Jean Grey's telepathic powers are developing at a remarkably early stage for her, which could lead to all sorts of interesting story developments. Young Cyclops begins to discover things about his future with Jean Grey. Angel really,
really
has a hard time understanding what is happening in this future, and why no one else has a problem with what's going on.
If anything, I'm anxious to see where the Jean Grey storyline is going. Seeds are already being planted for her to start falling to the dark side of her power, with or without the Phoenix. Given that Jean Grey, in all her varied forms, has always been my favorite character, this is all very exciting for me! I'll definitely be keeping up with this series.
To purchase any of the books in this post, and help my local Indie bookstore, and help me buy more books, click the links above!