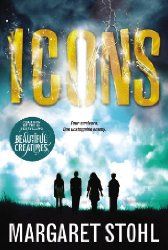 Margaret Stohl
stopped by
Schuler Books
last night to promote the paperback release of her book,
Icons
. I'm going to admit up front that I haven't read anything by Margaret Stohl before, but the woman totally impressed me last night. She gave great advice for people who are scared to take that chance that they've always wanted to take (just take the chance!), great advice for writers, and great stories to tell of experiences in her life.
At the end of the night, she bought copies of her own book from the store to donate to local high schools and signed them all! I thought that was a pretty awesome thing to do, and yet one more reason why I will always stand behind the idea that all authors are superstars!
To purchase any of the books in this post, and help my local Indie bookstore, and help me buy more books, click the links above!