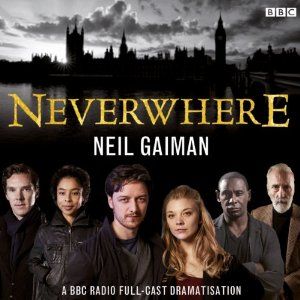 I just finished listening to
BBC Radio's production
of Neil Gaiman's
Neverwhere
, and it was a wonderful thing. It took me a little bit to get used to the way the production was handled, but eventually I was swept up in the story and had no problems following along. The narrators are
fantastic
, including James McAvoy (LOVE), Natalie Dormer, David Harewood, Sophie Okonedo, Benedict Cumberbatch (LOVE, AGAIN), Christopher Lee, Anthony Head, David Schofield, Bernard Cribbens, Romola Garai, George Harris, Andrew Sachs, Lucy Cohu, Johnny Vegas, Paul Chequer, Don Gilet, Abdul Salis, and Neil Gaiman.
I've never read
Neverwhere
before, and when I heard that they released the BBC production on
Audible
, I jumped at the chance to download it. While I had part of the story figured out rather early on, I still enjoyed it. Gaiman has such a way of making something that shouldn't feel real at all seem absolutely ordinary and matter of fact. I've got a copy of the novel at home, and I think I'm going to pick that up sooner than later to see how the book plays out and to see if they kept honest to the book or made any drastic changes.
If you enjoy audiobooks or audio dramatizations, I'd highly recommend this! It was a topnotch production.