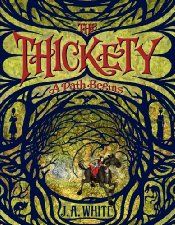 Title
:
The Thickety: A Path Begins
Series
:
The Thickety
Author
: J. A. White, illustrations by Andrea Offermann
Copyright
: 2014
Pages
: 496
ISBN
: 9780062257246
Publisher
:
Katherine Tegen Books
,
HarperCollins
Author Website
:
jawhitebooks.com
Twitter
:
@jawhitebooks
,
@HarperCollins
Format
: ARC provided by publisher for honest review
Available
: May 6, 2014
Rating
: 4/5 stars
J. A. White's
The Thickety: A Path Begins
is an unexpected surprise for me. I generally avoid reading middle grade, as I'm usually annoyed by authors who pander to a younger audience and tend to make a book too simplistic for that very reason. I think this was why as a kid, I graduated myself fairly early on from books geared toward young readers. Even at that age, they annoyed me.
I received
The Thickety: A Path Begins
in the mail last week, and shortly after was confined to bed with the flu and needed something that wasn't too challenging to read, so I thought
The Thickety: A Path Begins
would fit perfectly. From the prologue alone, I knew that I was in for something that was definitely
not
going to be pandering to a younger audience and would instead challenge young readers with more grownup themes that I wasn't expecting at all. (Not that I was expecting anything as I really didn't know what the book was about, but I know I didn't expect what I got out of it!)
The prologue opens with a young Kara being kidnapped from her home and being accused, along with her mother, of being a witch. While Kara is able to convince the townsfolk of her innocence, it is too late for her mother. Skip ahead several years, Kara's father has fallen into a deep depression and her young brother is often sickly, so it falls to Kara to take care of her family and make sure that they are as well provided for as she can manage at such a young age. Kara and her young brother Taff are shunned by the townsfolk, as they fear that possibly Kara might follow in her mother's footsteps, as magic is the ultimate evil according the townsfolk. The epitome of this truth is the dark forest, the Thickety, that is ever encroaching on their village. Filled with creatures and evils, the town lives in constant fear of the Thickety, since being on an island only gives them so much space to share with the forest, so there is a constant battle to keep the forest from growing any further. (Clearers work day in and day out, clearing the new growth that is constantly sprouting as the forest constantly marches forward.) Everyone knows that you stay away from the Thickety, because if you are lucky enough to escape if you do enter, you are never the same again. Kara knows this, but when she is lured into the forest by a strange bird and led to a book that belonged to her mother, she begins to question everything she's ever been taught about her family, magic, and her place in the world.
I think what surprised me the most in
The Thickety
was the fact that bad things did happen to people, and you had to learn that life went on. Kara's life seems to be one unfortunate event after another, but she's learned to persevere and take the best that she can out of life. Other issues that are handled in the story, and not necessarily in a candy-coated way either: death, depression, addiction, bullying, poverty, slavery. Honestly, I forgot I was reading something that was being marketed as middle grade; I felt that what I was reading was something a little stronger than what I imagine most middle grade books being. White certainly doesn't pander to a younger audience, and this is a good thing.
Another aspect of the book that I liked is there is no clear time frame for when this story is taking place. The villagers attitude towards witches and magic is certainly reminiscent of the witch hysteria of the late 1600s/early 1700s, but the island is so isolated, I kept getting the feeling that possibly the world outside had been progressing along while the community on the island remained stagnant. (I couldn't help but think of M. Night Shyamalan's movie
The Village
while reading.) Of course, this could never be explained, and the time frame is left up to the reader's imagination, but either way, I liked the fact that there is nothing set in stone here about a time, that it is just happening in the course of things.
For a debut novel, J. A. White certainly has a home run with this book. His descriptions are excellent, his creatures are believable, the magic use in his world is unique, and his writing is very tight and spot on with the pacing, all the way up to the final twist (or two!) in the story, one that I did not see coming at all at first. I'm hoping that White will continue writing such compelling stories for years to come!
The Thickety: A Path Begins
will be released by
Katherine Tegen Books
on May 6, 2014.
To purchase any of the books in this post, and help my local Indie bookstore, and help me buy more books, click the links above!