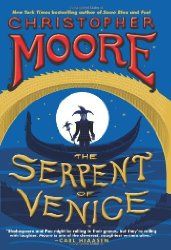 That right there kids, is
Christopher Moore
, the Author Guy! He stopped by
Schuler Books
this afternoon to promote the release of his new book,
The Serpent of Venice
. I haven't read anything by Moore before, but I'm going to have to remedy that quickly. The man is hysterical, and if he writes half as funny as he talks, I'm in for a treat!
Yet another fantastic event at my local
Indie
! They've been having so many great authors coming through lately, I'm going to have to get a job there just to afford all the books that I want to pick up!
To purchase any of the books in this post, and help my local Indie bookstore, and help me buy more books, click the links above!