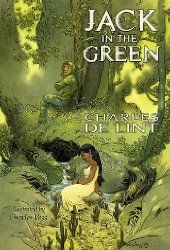 Title
:
Jack in the Green
Author
: Charles de Lint, illustrated by Charles Vess
Copyright
: 2014
Pages
: 96
ISBN
: 9781596066410
Publisher
:
Subterranean Press
Author Website
:
charlesdelint.com
,
greenmanpress.com
Twitter
:
@cdelint
Format
: Signed, Limited Edition Hardcover
Available
: April 30, 2014
Rating
: 3/5 stars
A nice, little retelling of Robin Hood that is told in de Lint's plain, straight forward writing,
Jack in the Green
finds Robin (known as Jack this time around) brought to the modern day Southwest barrio. I've still not read that much de Lint, but I do like how he handles magic in his stories: that there really isn't an explanation for how it works, you just accept it how it is. However, I found the socio political context of the story a little heavy handed; given that it's a Robin Hood retelling, we already know it's about how the rich are oppressing the poor (this time seen from the point of view of the recent recession), but to have it made such a large point in the story, so many times, felt too much like de Lint was simply writing this to express his views and was trying to hide it poorly in this novella. I'm not sorry I read it, I'm just not sure this will ever rank up there as a favorite for me.
I want to mention a little on the physical book itself. It's beautiful. Charles Vess' cover illustration is fantastic, and fits the tone of the story quite well, as do his interior illustrations. Subterranean Press did an excellent job with the production of the book. The green, leaf embossed endpapers are gorgeous and the graphic design of the book is really top notch. This book is another of the reasons I think Sub Press is one of the finest small press run printers in the country.