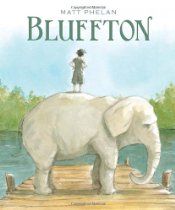 Title
:
Bluffton
Author
: Matt Phelan
Copyright
: 2013
Pages
: 240
ISBN
: 9780763650797
Publisher
:
Candlewick Press
Author Website
:
www.mattphelan.com
Twitter
:
@candlewick
,
@MattPhelanDraws
Format
: Hardcover
Available
: July 23, 2013
Rating
: 3/5 stars
Matt Phelan's love letter to Buster Keaton and the summers he spent in Muskegon, MI, as a youngster in the early 1900s,
Bluffton
is a cute little book, the pictures are charming, but really, for me, this is a one trick pony. There is nothing here that is going to bring me back to this story. Will it be good for kids? Not sure. I don't have kids of my own, so I don't know if this would work for them, but I don't know that the kids around me that I do know what really get to much out of this book. I think this is definitely made more for adults who lived during these times in Muskegon and would like a walk down memory lane. This is definitely not a bad story, just ultimately not for me.
To purchase any of the books in this post, and help my local Indie bookstore, and help me buy more books, click the links above!