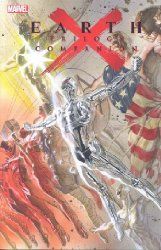 Title
:
Earth X Trilogy Companion
Series
:
Earth X
Authors
: Jim Krueger & Alex Ross, art by Richard Case & Alex Ross
Copyright
: 2008
Pages
: 232
ISBN
: 9780785124177
Publisher
:
Marvel
Author Website
:
www.alexrossart.com
Twitter
:
@Marvel
Format
: Paperback
Available
: April 16, 2007
Rating
: 4/5 stars
This is a really great companion piece to the
Earth X
trilogy, providing quite a bit of background information on the characters, and including two previously uncollected prequels to the series (
Earth X
#1/2 and a 3 story arc that brings X-51 from his origin up to the point where we find him at the beginning of
Earth X
. There is a surprisingly large number of sketches and character designs included in the volume. If you are a fan of the
Earth X
trilogy and haven't picked up this volume before, it's definitely worth checking out.
To purchase any of the books in this post, and help my local Indie bookstore, and help me buy more books, click the links above!