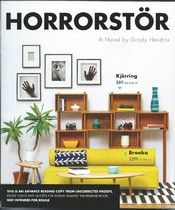 Title
:
Horrorstör: A Novel
Author
: Grady Hendrix
Copyright
: 2014
Pages
: 240
ISBN
: 9781594745263
Publisher
:
Quirk Books
Author Website
:
www.gradyhendrix.com
Twitter
:
@grady_hendrix
,
@quirkbooks
Format
: Paperback
Available
: September 23, 2014
Rating
: 4/5 stars
This is a damned clever book. Taking place in an Ikea knockoff store called Orsk,
Horrorstör
is presented in a format that resembles a catalog that someone would get in the mail from one of these flat-box furniture stores, complete with order forms, product descriptions and drawings of furniture sold in the store (that slowly morph in appearance and description into products that have a more sinister feel to them). Everything about the actual look and feel on the book is spot on in creating the feel of one of these catalogs. Kudos to the design team at Quirk!
Possible Spoilers!
The story opens like any other day at a retail location, with employees plodding along to their job. Amy is a disillusioned Orsk employee, and she's trying to stay out of her manager, Basil's, way, as she's sure he is out to get her and she's trying to keep from being fired before her transfer to another location comes in. Hendrix really gets the feel of the various retail employees. Amy, the disillusioned clerk who feels she's suited for better; Ruth Anne, the overly energetic and bubbly employee that everybody likes; Basil, the over optimistic manager who tries to turn everything into a learning opportunity for his employees; and so forth. On this particular day at Orsk, tho, something has happened that has Basil worried. Someone has vandalized a couch on the sales floor overnight.
The story falls back on several familiar horror tropes, yet doesn't feel familiar when you read it. The Orsk store is built on top of an old prison (the Beehive) that was demolished over a century ago, and since it's construction, there has been more and more unusual activity happening in the store. Thinking it's no more than vandals that sneak into the store at night, Basil decides to bring in two employees to stay overnight (Amy and Ruth Anne), to try to catch the culprits before Orsk corporate managers arrive at the store in the morning to evaluate what exactly is going on. What follows is a slow decent into madness for the Orsk employees as their world and that of the Beehive begin to blur and collide inside Orsk.
Really, this is one of the most unique horror novels, in both presentation and story, that I've read in a while. I'm hoping that there will be more to this story, as the ending leaves a little, tiny gap for more to happen. Recommended!
Horrorstör: A Novel
by Grady Hendrix will be released on September 23, 2014, from
Quirk Books
.
To purchase any of the books in this post, and help my local Indie bookstore, and help me buy more books, click the links above!