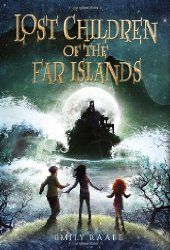 Title
:
Lost Children of the Far Islands
Author
: Emily Raabe
Copyright
: 2014
Pages
: 288
ISBN
: 9780375870910
Publisher
:
Knopf Books for Young Readers
Author Website
:
emilyraabe.com
Twitter
:
@HMHKids
,
@randomhouse
,
@ecraabe
Format
: Hardcover
(provided from publisher for an honest review)
Available
: April 8, 2014
Rating
: 4/5 stars
As I approached recently to be a part of Emily Raabe's blog tour for her debut middle grade fantasy novel,
Lost Children of the Far Islands
, I thought I'd like to be a part of the tour, especially after learning what Emily and her husband are doing. From Boulder, CO to Burlington, VT, they are going on a road trip to visit local, independent bookstores and
blogging about their adventures
. Isn't that a cool idea? I hadn't heard of her book before, so I'm also always looking for new authors to discover as well, so for me, this was a win-win situation; I get to read a new author, and support her in an amazing adventure!
It turns out that
Lost Children of the Far Islands
is actually a charming book! It follows the adventures of twins Gus & Leo and their younger sister, Ila, who are whisked off to a remote island off the coast of Maine when their mother falls mysteriously ill. On the island, under the guidance of their grandmother, the Morai, the discover that they are actually descendents of the Folk, magical creatures who can change from human form to that of an animal. It also comes to light that their mother is ill because she's been trying to protect them from the Dobhar-chu, the King of the Black Lakes, who will do anything to break free of his prison (where the Morai has been keeping him in check), and return to power.
Steeped in actual mythological lore, Raabe's book is plenty full of magic and adventure, but it's also full of well-polished characters. We get to see the first hand impressions of the children as they begin to become acquainted with their animal forms, and it's clear that Raabe put a lot of research into the marine life that she presents in her story. The kids themselves also act their various ages, and I liked the quirky tightness of their family. Personally, I think this is a great book for kids and highly recommend it for young readers!
To purchase any of the books in this post, and help my local Indie bookstore, and help me buy more books, click the links above!