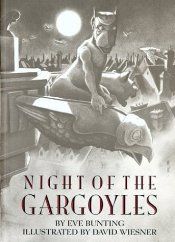 Title
:
Night of the Gargoyles
Author
: Eve Bunting, illustrated by David Wiesner
Copyright
: 1994
Pages
: 32
ISBN
: 9780395968871
Publisher
:
HMH Books for Young Readers
Twitter
:
@HMHKids
Format
: Paperback
Available
: August 23, 1999
Rating
: 4/5 stars
My sister recently moved, and I went over to help her get her new place set up. She had left me one of the best jobs, setting up her library for her. While I was organizing her books, I discovered this slim little volume and decided that I needed to sit down to read it on the spot. The story is just a short little tale about gargoyles and their goings-on at night when the rest of the world is asleep. I thought the story cute, but what is really astounding about this book are the charcoal sketches by David Wiesner. They are just fantastic! I've included a couple of shots of my some of my favorite pages below. I'm hoping that I'll be able to find a copy of my own someday to add to my library.
To purchase any of the books in this post, and help my local Indie bookstore, and help me buy more books, click the links above!