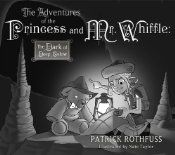 Title
:
The Adventures of the Princess and Mr. Whiffle: The Dark of Deep Below
Series
:
The Adventures of the Princess and Mr. Whiffle
, Book 2
Author
: Patrick Rothfuss, illustrated by Nate Taylor
Copyright
: 2014
Pages
: 159
ISBN
: 9781596066199
Publisher
:
Subterranean Press
Author Website
:
www.patrickrothfuss.com
Artist Website
:
natentaylor.king-sheep.com
Twitter
:
@PatrickRothfuss
,
@subpress
Format
: Hardcover
Available
: November 30, 2013
Rating
: 3/5 stars
Continuing the adventures of the Princess and her stuffed bear, Mr. Whiffle,
The Dark of Deep Below
delves a little more into her life and family dynamic (such as discovering that the Princess does in fact have parents, a trifling fact that seemed to be missing from the first volume). This time around, the Princesses little brother is kidnapped by goblins, and the Princess must decide whether she goes to rescue him or not, because she's really not that sure that she likes having a little brother in the first place. As with the first volume, there are 3 different endings that you can choose from and decide for yourself how you would want the story to end. And yes, these look like children's books, but they
ARE NOT FOR CHILDREN.
Nope, not at all.
Rothfuss and Taylor have taken their precocious character and her stuffed teddy and given them a longer, more involved story this time around, but somehow it didn't seem to live up to the first story for me. I more or less knew that there was going to be a twist at the end, and while I didn't foresee what exactly it was, knowing it was coming slightly downplayed it for me. Still, this is one of the more unique picture books you'll find out there for adults (seriously, don't read this to your kids!), so it's still worth reading, especially if you enjoyed the first one.
To purchase any of the books in this post, and help my local Indie bookstore, and help me buy more books, click the links above!