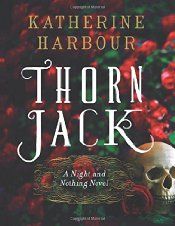 Title
:
Thorn Jack: A Night and Nothing Novel
Series
:
Night and Nothing Novels
, Book 1
Author
: Katherine Harbour
Copyright
: 2014
Pages
: 352
ISBN
: 9780062286727
Publisher
:
Harper Voyager
Author Website
:
katherineharbour.com
Twitter
:
@HarperVoyagerUS
,
@katharbour
Format
: Digital copy supplied from
Edelweiss
for an honest review
Available
: June 24, 2014
Rating
: DNF
I tried very, very hard to like this book. Really, I did. It seemed like it should be something that I would like, but the more I read, the less I liked. Maybe the prose was just a little too purple for my liking? Maybe the book was just a little too "new adult"? To be honest, I haven't read much in the "new adult" genre (or however it's called - personally, I'm not even entirely sold on the idea of "new adult" being a thing), but I have to think that possibly this is a publishing trend that I'm going to be able to skip.
The story revolves around Finn who, with her father, has moved to a small town in upstate New York after her sister's suicide to attend art school. As she begins to settle in and find her place amongst the eccentrics of the town, Finn finds herself a small group of friends, and finds herself attracted to the mysterious Jack Fata, a member of the richest family in the small town. It would seem that Jack and his family have some ties to the Fae, and that Jack has an infatuation for Finn, but somewhere along this plot thread, I totally lost any momentum in the story. Everything was becoming too muddled in atmospheric situations and random encounters.
I have no doubt that the book will end up doing well. I can tell that for the right crowd, this book is going to be very popular, but it just wasn't working for me. I wouldn't even go so far as to not recommend it to people. The writing is solid, and Harbour clearly has an idea where her story is going. For the right reader, this book will be fantastic.
To purchase any of the books in this post, and help my local Indie bookstore, and help me buy more books, click the links above!