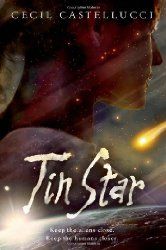 Title
:
Tin Star
Author
: Cecil Castellucci
Copyright
: 2014
Pages
: 240
ISBN
: 9781596437753
Publisher
:
Roaring Brook Press
Author Website
:
castellucci.wordpress.com
Twitter
:
@MacKidsBooks
,
@misscecil
Format
: Hardcover
Available
: February 25, 2014
Rating
: 4/5 stars
Tula Bane and her family are on their way to settle a new human colony, until she begins to question Brother Blue, the leader of their colonizing cult, who then beats her supposedly to death and leaves her stranded on the Yertina Feray space station, which is basically the ghetto of the galaxy. The only human on the space station, Tula needs to learn very quickly how to navigate the social & political workings of the numerous alien species on the space station, where Tula is considered the lowest of the low, being a human. Eventually she befriends Heckleck and learns how to work the criminal element of the space station to her advantage. As Tula continues to research what happened to the rest of the colonists under Brother Blue, she begins to uncover an intergalactic conspiracy and finds herself soon embroiled right in the middle of it.
Cecil Castellucci has described
Tin Star
as a retelling of
Casablanca
, which I completely missed until she pointed it out at a signing that I attended at my local Indie. Regardless, I really enjoyed
Tin Star
. The writing is solid and the characters are varied and solidly fleshed out. It's very clear that Castellucci has done her research, and the science behind the science fiction is firmly grounded in reality. With the way the book ended, I know that there's got to be at least a second book released eventually, and I'm certain that I'll be picking it up when it is.
To purchase any of the books in this post, and help my local Indie bookstore, and help me buy more books, click the links above!