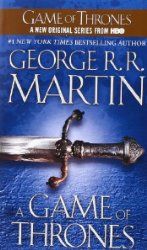 Title
:
A Game of Thrones
Series
:
A Song of Ice and Fire, Book 1
Author
:
George R. R. Martin
Narrator
:
Roy Dotrice
Copyright
: 1996
Pages
: 831
ISBN
: 9780553573404
Publisher
:
Bantam
Available
: January 1, 1996
Rating
: 5/5 stars
Not much more I can add to the discussion on this book. I'm surprised by how much I enjoyed listening to it, and am looking forward to listening to the rest in the series.
From what I remember watching the first season of the
HBO series
, they followed along with the book fairly faithfully. Nothing jumped out as a radical change, so if you're wanting to get into the series through either the books or the show but don't want to commit to the books, I think watching the show will give you the same story in a slightly condensed version.
To purchase any of the books in this post, and help my local Indie bookstore, and help me buy more books, click the links above!