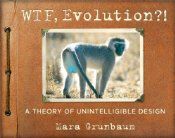 Title
:
WTF, Evolution?!: A Theory of Unintelligible Design
Author
:
Mara Grunbaum
Copyright
: 2014
Pages
: 272
ISBN
: 9780761180340
Publisher
:
Workman Publishing Company
Author Website
:
wtfevolution.tumblr.com
Twitter
:
@maragrunbaum
,
@wtf_evolution
,
@WorkmanPub
Format
: Paperback
(received an advance copy in exchange for a fair review)
Available
: October 7, 2014
Rating
: 4/5 stars
Product description:
We all have our off days. Why should Evolution be any different? Maybe Evolution got carried away with an idea that was just a little too crazy—like having the Regal Horned Lizard defend itself by shooting three-foot streams of blood from its eyes. Or maybe Evolution ran out of steam (Memo to Evolution: The Irrawaddy Dolphin looks like a prototype that should have been left on the drawing board). Or maybe Evolution was feeling cheeky—a fish with hands? Joke's on you, Red Handfish! Or maybe Evolution simply goofed up: How else to explain the overgrown teeth of the babirusas that curl backward over their face? Oops.

Mara Grunbaum is a very smart, very funny science writer who celebrates the best—or, really, the worst—of Evolution's blunders. Here are more than 100 outlandish mammals, reptiles, insects, fish, birds, and other creatures whose very existence leaves us shaking our heads and muttering WTF?! Ms. Grunbaum's especially brilliant stroke is to personify Evolution as a well-meaning but somewhat oblivious experimenter whose conversations with a skeptical narrator are hilarious.

For almost 4 billion years, Evolution has produced a nonstop parade of inflatable noses, bizarre genitalia, and seriously awkward necks. What a comedian!
This is a clever and funny collection of photographs of some of Nature's more obscure and bizarre creatures of all shapes and sizes, presented as a collection of photographs with accompanying dialogue between an unnamed narrator and Evolution. Evolution, often excited and anxious to show off it's newest creations, is often questioned, much to the reader's delight, by the narrator who is trying to figure out what exactly Evolution had in mind. Separated into chapters such as "Awkward Solutions" and "Half-Assed Attempts", we are presented with a wide array of creatures that does make one wonder what exactly was going on in the evolutionary process.
One of the reasons I enjoyed this book as much as I did is that I was introduced to a variety of animals that I had never heard of before, and while they are presented in a comedic fashion, I found myself researching a little more about them, beyond the humorous information presented in the book. One such creature is the whitemargin stargazer, a fish found in the Indopacific oceans, which I think looks like something that actually belongs Beyond the Wall.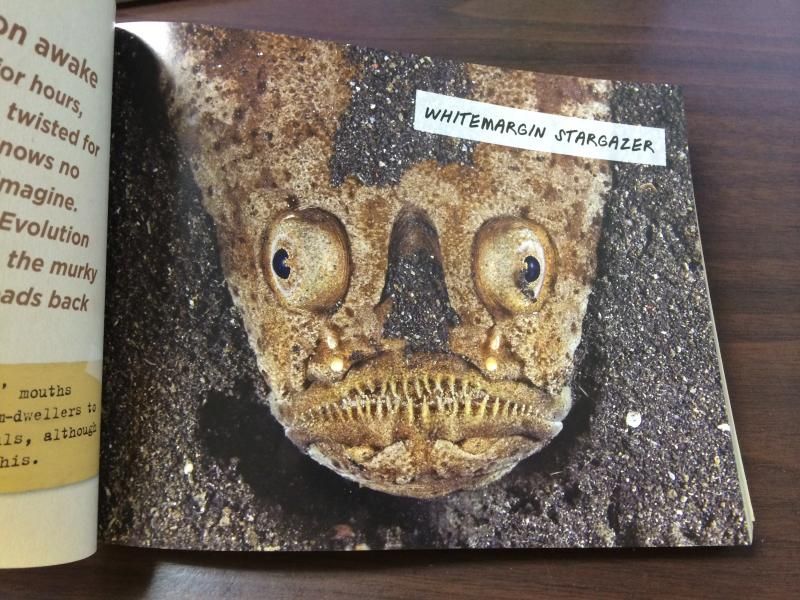 Mara Grunbaum has done a great job of presenting some of nature's more unique specimens, disguising some very interesting information about them is a humorous format that is both comical and informative. Check out her tumblr at
wtfevolution.tumblr.com
for even more of Evolution's craziness.
WTF, Evolution?!: A Theory of Unintelligible Design
by Mara Grunbaum will be available on October 7, 2014, from
Workman Publishing Company
.
To purchase any of the books in this post, and help my local Indie bookstore, and help me buy more books, click the links above!