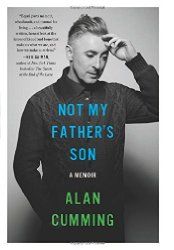 Title
:
Not My Father's Son: A Memoir
Author
:
Alan Cumming
Copyright
: 2014
Pages
: 304
ISBN
: 9780062225061
Publisher
:
Dey Street Books
Twitter
:
@Alancumming
,
@deystreet
Format
: Arc provided from publisher for honest review
Available
: October 7, 2014
Rating
: 4/5 stars
Product description:
In his unique and engaging voice, the acclaimed actor of stage and screen shares the emotional story of his complicated relationship with his father and the deeply buried family secrets that shaped his life and career.

A beloved star of stage, television, and film—"one of the most fun people in show business" (Time magazine)—Alan Cumming is a successful artist whose diversity and fearlessness is unparalleled. His success masks a painful childhood growing up under the heavy rule of an emotionally and physically abusive father—a relationship that tormented him long into adulthood.

When television producers in the UK approached him to appear on a popular celebrity genealogy show in 2010, Alan enthusiastically agreed. He hoped the show would solve a family mystery involving his maternal grandfather, a celebrated WWII hero who disappeared in the Far East. But as the truth of his family ancestors revealed itself, Alan learned far more than he bargained for about himself, his past, and his own father.

With ribald humor, wit, and incredible insight, Alan seamlessly moves back and forth in time, integrating stories from his childhood in Scotland and his experiences today as a film, television, and theater star. At times suspenseful, deeply moving, and wickedly funny, Not My Father's Son will make readers laugh even as it breaks their hearts.

Not My Father's Son
is a touching, funny, and sometimes disturbing memoir from Alan Cumming. He makes no qualms about the abuse his father inflicted upon him as a child. What he didn't discover until much later in his life, due to a series of events in his life that read almost like a soap opera, is why his father abused him so much. The events that Cumming describes almost seem too bizarre to be taken seriously, and if this were a work of fiction, I'd have doubts as to the level of disbelief the author expects me to suspend. However, these events did happen, and for all the grief and upset that Cumming describes in his memoir, he finally emerges as a healthier and happier person.
The memoir isn't always easy to read, especially if you have trouble reading about child abuse, as Cumming suffered from his fair share. However, he balances these events with witty and downright funny episodes from his life. There's nothing special here, other than an honest look into Alan Cumming's life and the how the man he is today was created.
To purchase any of the books in this post, and help my local Indie bookstore, and help me buy more books, click the links above!