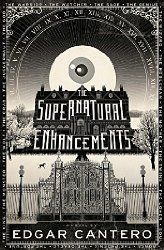 Title
:
The Supernatural Enhancements
Author
:
Edgar Cantero
Copyright
: 2014
Pages
: 368
ISBN
: 9780385538152
Publisher
:
Doubleday
Twitter
:
@doubledaypub
,
@punkahoy
Format
: Hardcover
Available
: August 12, 2014
Rating
: 5/5 stars
Product description:
A mesmerizing novel...what begins as a gothic ghost story soon evolves into a wickedly twisted treasure hunt in The Supernatural Enhancements, Edgar Cantero's wholly original, modern-day adventure.

When twentysomething A., the European relative of the Wells family, inherits a beautiful, yet eerie, estate set deep in the woods of Point Bless, Virginia, it comes as a surprise to everyone—including A. himself. After all, he never knew he had a "second cousin, twice removed" in America, much less that his eccentric relative had recently committed suicide by jumping out of the third floor bedroom window—at the same age and in the same way as his father had before him . . .

Together with A.'s companion, Niamh, a mute teenage punk girl from Ireland, they arrive in Virginia and quickly come to feel as if they have inherited much more than just a rambling home and an opulent lifestyle. Axton House is haunted... they know it...but the presence of a ghost is just the first of a series of disturbing secrets they slowly uncover. What led to the suicides? What became of the Axton House butler who fled shortly after his master died? What lurks in the garden maze – and what does the basement vault keep? Even more troubling, what of the rumors in town about a mysterious yearly gathering at Axton House on the night of the winter solstice?

Told vividly through a series of journal entries, cryptic ciphers, recovered security footage, and letters to a distant Aunt Liza, Edgar Cantero has written an absorbing, kinetic and highly original supernatural adventure with classic horror elements that introduces readers to a deviously sly and powerful new voice.
I'm having a difficult time describing how much I enjoyed this book. When I'd read
The Girl with All the Gifts
, I didn't really think I was going to be reading another book this year that I enjoyed as much.
The Supernatural Enhancements
has a little bit of everything I love in a great book: slightly paranormal/supernatural premise, a mystery, Gothic in feeling & tone, intriguing characters, perfect pacing, even an eccentric aunt!
I honestly can't go into detail in saying anything about the book without giving much away. The story follows A. (the only name he goes by), who has inherited an estate from an unknown, wealthy relative, he and his mute friend, Niamh, travel to the States to take up residence and try to figure out why he was bequeathed the estate. Told through a series of diary entries, letters, transcripts of video and audio footage, and various other sources (which put me in mind of Marisha Pessl's
Night Film
, we follow A. and Niamh as they discover more and more clues related to the mysterious history of both his unknown relative, Ambrose Wells, and the estate of Axton House.
I absolutely can't recommend this book enough. This will be the perfect book to curl up on the couch with a hot cuppa and read during the windy, chilled months leading up to winter. Happy reading!
To purchase any of the books in this post, and help my local Indie bookstore, and help me buy more books, click the links above!