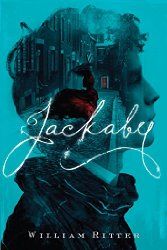 Title
:
Jackaby
Author
:
William Ritter
Copyright
: 2014
Pages
: 304
ISBN
: 9781616203535
Publisher
:
Algonquin Young Readers
Twitter
:
@AlgonquinYR
Format
: Hardcover
Available
: September 16, 2014
Rating
: 4/5 stars
Product description:

"Miss Rook, I am not an occultist," Jackaby said. "I have a gift that allows me to see truth where others see the illusion - and there are many illusions. All the world's a stage, as they say, and I seem to have the only seat in the house with a view behind the curtain."

Newly arrived in New Fiddleham, New England, 1892, and in need of a job, Abigail Rook meets R. F. Jackaby, an investigator of the unexplained with a keen eye for the extraordinary - including the ability to see supernatural beings. Abigail has a gift for noticing ordinary but important details, which makes her perfect for the position of Jackaby's assistant. On her first day, Abigail finds herself in the midst of a thrilling case: A serial killer is on the loose. The police are convinced it's an ordinary villain, but Jackaby is certain it's a nonhuman creature, whose existence the police - with the exception of a handsome young detective named Charlie Cane - deny.

Doctor Who meets Sherlock in a debut novel, the first in a series, brimming with cheeky humor and a dose of the macabre.
A book described as
Doctor Who
meets
Sherlock
?! Yes, please!
However...
When I started reading
Jackaby
, I was immediately annoyed. This wasn't just a book written in the same flavor of "Doctor Who meets Sherlock", it is quite clearly the Doctor written
as
Sherlock. In my mind, Jackaby is so clearly Four written as if he were taking a turn at being Sherlock; it even seems like this could be a lost adventure of the Doctor. He even has his own female companion in Abigail Rook (the Watson to Jackaby's Sherlock). The more I read, the more difficulty I had divorcing myself from this idea. After a couple of chapters, I put the book down, not sure that I would finish it.
However...
Two days later I picked it up again, and immediately found myself annoyed all over again. Yet, I kept reading, and suddenly I found myself at the end of the book and being disappointed that I didn't have more to read! Somewhere along the way, Ritter completely won me over on his characters and story. I still think this could be reworked with very little difficulty into an adventure for the Doctor, but I thoroughly enjoyed it all the same. Eventually I no longer found myself comparing Jackaby to the Sherlock Doctor, and found myself reading him as himself; he developed his own distinct voice and look in my head.
As for the story, this is definitely a whodunit with a supernatural twist. Jackaby has the fortunate (unfortunate) ability to see things and creatures that others can not, and as such offers his services to the police to help solve crimes that fall outside the realm of the normal. Newly arrived in the new world, Abigail Rook is in search of a job, and when she answers an advert for an assistant position with Jackaby, he doesn't know what she's set herself up for. Jackaby takes her with him as he goes to investigate a murder, and in contrast to his ability to see the extraordinary, Abigail notices seemingly ordinary and mundane things, yet Jackaby finds these details important. From here, we are offered a fun and rollicking adventure as Jackaby and Abigail try to unravel the mystery of the killer before he kills again.
When all is said and done, I want a sequel. I want more Jackaby, more Abigail, more of their banter. If you are a fan of
Doctor Who
or
Sherlock
, do yourself a favor and pick up
Jackaby
. I hope you'll be as pleasantly surprised as I was.
To purchase any of the books in this post, and help my local Indie bookstore, and help me buy more books, click the links above!