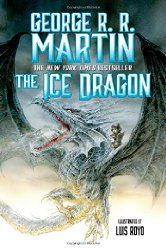 Title
:
The Ice Dragon
Author
:
George R. R. Martin
, illustrated by
Luis Royo
Copyright
: 2014
Pages
: 128
ISBN
: 9780765378774
Publisher
:
Tor Teen
Twitter
:
@torteen
,
@GRRMspeaking
Format
: Hardcover
Available
: October 21, 2014
Rating
: 4/5 stars
Product description:
The Ice Dragon is an enchanting tale of courage and sacrifice for young readers and adults by the wildly popular author of the #1 New York Times bestselling Song of Ice and Fire series, George R.R. Martin. Lavish illustrations by acclaimed artist Luis Royo enrich this captivating and heartwarming story of a young girl and her dragon.

In the world of A Song of Ice and Fire the ice dragon was a creature of legend and fear, for no man had ever tamed one. When it flew overhead, it left in its wake desolate cold and frozen land. But Adara was not afraid. For Adara was a winter child, born during the worst freeze that anyone, even the Old Ones, could remember.

Adara could not remember the first time she had seen the ice dragon. It seemed that it had always been in her life, glimpsed from afar as she played in the frigid snow long after the other children had fled the cold. In her fourth year she touched it, and in her fifth year she rode upon its broad, chilled back for the first time. Then, in her seventh year, on a calm summer day, fiery dragons from the North swooped down upon the peaceful farm that was Adara's home. And only a winter child — and the ice dragon who loved her — could save her world from utter destruction.

This new edition of The Ice Dragon is sure to become a collector's item for fans of HBO's megahit Game of Thrones.
So, this is a strange little creature of a book. It is marketed as a YA, but I don't know that it is quite written as a YA. Of course, given that it was written in the 80s originally, when there was no such thing as a YA market, this also makes a little more sense. It seems to dwell somewhere in that nether region between YA and straight up adult fantasy, which isn't necessarily a bad thing. There is one thing that will eternally bug me about YA that is dumbed down for kids, and this is certainly not that. Martin gives us an intelligent and emotional tale of a young girl and her coming of age story as she watches her family and home being torn away from her and she learns the meaning of sacrifice.
Adara, born during one of the harshest freezes that anyone could remember, was as cold and hard as the winter that she was brought into. Her family tried to no avail to get her to melt her cold heart. Her only constant companion was the ice dragon, a rare and terrible creature of power. The only person to ever befriend an ice dragon let alone ride one, Adara looked forward to winter and to every year on her birthday to see the dragon again.
However, when the war in the North finally made its way to her small village and fire-breathing dragons threatened her family and home, Adara's heart finally melts and with the help of the ice dragon, she learns the true meaning of love and sacrifice. While typing this out makes it sound a little on the sentimental side, there really isn't much sentimentality in the telling. Like all of Martin's stories, he is not shy telling about the ravages of war here. There is violence and darkness in this story to be sure, but it is tempered just as equally by the love of Adara and her ice dragon.
The design of the book is beautiful. The illustrations are gorgeous, and the entire book is printed in a blueish tone, giving it a uniquely winter-ish feel. However put this book together did a grand job.
I know there are people out there that are going to be shocked by this story, given at first glance it looks to be a charming tale about a girl and her dragon. It is, but there is so much more to it than that, and really, you should be familiar with Martin's Song Ice and Fire series, and if you are familiar with his writing, you know he can be dark, even when telling a tale such as this, so be warned. This book probably won't be for everyone, but I found it to be a wonderful addition to the Song of Fire and Ice saga.
To purchase any of the books in this post, and help my local Indie bookstore, and help me buy more books, click the links above!