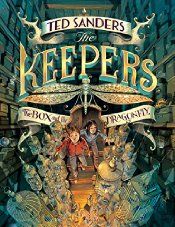 Title
:
The Keepers: The Box and the Dragonfly
Series
:
The Keepers
, Book 1
Author
:
Ted Sanders
, illustrated by
Iacopo Bruno
Copyright
: 2015
Pages
: 544
ISBN
: 9780062275820
Publisher
:
Harper
Twitter
:
@HarperCollins
Format
: ARC provided by publisher rep for honest review
Available
: March 3, 2015
Rating
: 4/5 stars
Product description:
Artifacts. Miseries. Mysteries...

From the moment Horace F. Andrews sees the sign from the bus - a sign with his own name on it - everything changes. The sighting leads him underground to the House of Answers, a hidden warehouse brimming with peculiar devices. But there he finds only questions. What is this curious place? Who are the strange, secretive people who entrust him with a rare and immensely powerful gift? And what is he to do with it?

As he works to master his newfound abilities, Horace quickly discovers that nothing is ordinary anymore. From the sinister thin man lurking around every corner to his encounters with Chloe - a girl who has an astonishing talent of her own - Horace follows a path that puts him in the middle of a centuries-old conflict between two mysterious factions.

Horace's journey leads him and Chloe deep into a place where every decision they make could have disastrous consequences. Most important, it links Horace to the Box of Promises and a future he never saw coming.

With an action-packed blend of fantasy and science fiction, Ted Sanders creates a world where everything is more than it seems and where friendship and loyalty have the greatest power of all.
I was rather excited about this book from the moment I was first told about it. An acquaintance was telling me about the book, and generally she doesn't like children's books, so when she was proving to be excited about it, I thought I should be paying attention to that. And you know what? She was right.
There is so much in this book that I liked. We're immediately introduced to Horace, our hero of the story, who immediately sees a sign that catches his eye, which immediately leads him to his first encounter with a questionable character, which is quickly followed by Horace's discovery of the the House of Answers, which immediately sets Horace on his way to adventure. This all sounds really rushed when I type it out like this, but it works. Sometimes I feel stories are too drawn out to get to the action, and sometimes they are far too rushed, but this one worked perfectly for me to get us into the story. I had an immediate feel for
Harry Potter
, but only in the sense that there was a very real, very close world of magic that is going on in the background of this story that the general population knows nothing about, and it's been this way for a very long time. Sanders really does a great job of a quick world building that doesn't feel forced, it just is. However, that's about as far as the
HP
similarities went. Horace is a really smart kid, and he's very methodical and scientific in his thinking, so when he is presented with what seems to be a magical artifact, he goes about exploring it's properties in a very scientific way, even going so far as to discuss some of his thoughts with his science teacher. Here is another something that I particularly liked about the story; there does actually seem to be some science behind the magic and fiction in the story. It makes the entire story feel really grounded for me.
Horace, Chloe (the other hero of our story), their families, and the other characters in the story also feel very real. They have their flaws, their families aren't perfect, they make mistakes. One of the things that I continually was impressed with is Horace's relationship with his family, especially his mother. One thing that I find frequently frustrating about many YA and middle grade books is the constant necessity for the kids to keep things from the adults in the stories. I assume this must be to show that a certain level of independence in a young person is a good thing, but the other thing to remember is that the kids these books are geared at
are
young, and don't always know best, and sometimes it's OK, even a good thing, to ask for help from the grownups in their lives. Granted, while Horace doesn't reveal everything that is going on in his life with his parents, they still play an important part in his life and he still relies on their advice. To me, this seems like a refreshing turn of events for a YA or middle grade book. On the flip side of that, with Chloe's family and he strained relationship with her father, I feel this is refreshing in its own way, as it shows kids that don't have the ideal family life or have problems at home that there can still be magic in the world and that relying on your friends can be just as important as relying on your family.
While it seems like
The Box and the Dragonfly
is a large book (clocking in at 544 pages!), it is paced great and never feels like it is slogging along. I read it in two sittings and was partly saddened that I got through it so quickly. Given the age group that the book is geared towards, however, I think it will move along at a great rate and kids won't feel bored reading it at all, nor will they feel like they've got a huge book to plod through.
If I had any complaint at all about the book, it's Sanders' descriptions of his characters. I never felt at any point in the book that I had a clear idea of what any of the characters looked like. While this works to some of the characters advantages and their very nature, it doesn't work for others. Other than a vague idea that Horace is a bigger kid, I have no idea what he looks like. Is he bigger as in taller, broader, or bulkier? Just telling me he's a big kid doesn't really help me put a clear picture of him together in my head. While reading, I kept having more and more differing views of how the characters look. Maybe it's just me, but I feel a more precise description of some of the characters would have gone a long way.
This one "flaw" aside (and honestly, that's not even that big of a deal), Sanders has created quite the fine world in
The Box and the Dragonfly
. Not one to read much middle grade anymore, I'm pleased to have read two such strong middle grade debuts this year (the other being J. A. White's
The Thickety: A Path Begins
). Just like that book, I'll definitely be looking forward to continue reading Horace and Chloe's adventures and will be recommending this book to all my friends with young readers!
The Keepers: The Box and the Dragonfly
by Ted Sanders will be released on March 3, 2015 from
Harper
.
To purchase any of the books in this post, and help my local Indie bookstore, and help me buy more books, click the links above!