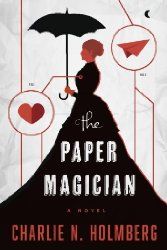 Title
:
The Paper Magician
Series
:
The Paper Magician Series, Book 1
Author
:
Charlie N. Holmberg
Copyright
: 2014
Pages
: 224
ISBN
: 9781477823835
Publisher
:
47North
Twitter
:
@CNHolmberg
Format
: Paperback
Available
: September 1, 2014
Rating
: 3/5 stars
Product description:
Ceony Twill arrives at the cottage of Magician Emery Thane with a broken heart. Having graduated at the top of her class from the Tagis Praff School for the Magically Inclined, Ceony is assigned an apprenticeship in paper magic despite her dreams of bespelling metal. And once she's bonded to paper, that will be her only magic... forever.

Yet the spells Ceony learns under the strange yet kind Thane turn out to be more marvelous than she could have ever imagined—animating paper creatures, bringing stories to life via ghostly images, even reading fortunes. But as she discovers these wonders, Ceony also learns of the extraordinary dangers of forbidden magic.

An Excisioner — a practitioner of dark, flesh magic — invades the cottage and rips Thane's heart from his chest. To save her teacher's life, Ceony must face the evil magician and embark on an unbelievable adventure that will take her into the chambers of Thane's still-beating heart — and reveal the very soul of the man.

From the imaginative mind of debut author Charlie N. Holmberg, The Paper Magician is an extraordinary adventure both dark and whimsical that will delight readers of all ages.

There was so, so much potential in
The Paper Magician
. When I started reading, I was immediately struck by how much this read as if Gail Carriger had taken her hand at writing her version of
Jonathan Strange and Mr. Norrell
. It had Carriger's light-hearted feel, but instead of dealing with an urban fantasy, steampunk world, this is solidly grounded in the world of magic. I found the magic system Holmberg created for her world very original; magicians can manipulate and control man-made materials (paper, glass, metal), and once a magician is bonded to a material, that is the only material that they will be able to work with magically for the rest of their lives.
Where the book started to fall apart for me was almost at the beginning, as we follow Ceony, who has worked her way to the top of her class and was hoping to become a metal magician, but since there is a lack in paper magicians, it is decided for her to be apprenticed to paper magician, Thane. However, within about a chapter, she decides that possibly she was wrong about Thane and paper magic, and seems to already be falling for him. I felt at this point I had missed some chapters; things were proceeding way too quickly to get to the main conflict of the story, and here is where Holmberg redeemed herself for me.
An Excisioner, a magician who can control blood magic (which is also highly illegal), attacks Thane and literally rips the beating heart out of his chest. Despite having almost no practice or accomplishment beyond a basic understanding of paper magic, Ceony folds a paper heart for Thane and places it in his chest, keeping him alive for a short amount of time. What follows here is what impressed me with Holmberg, as Ceony actually enters Thane's heart, where she is privy to his aspects of his life. This is actually something that I have never read the like of before and found it very intriguing. The entire concept was wildly original, at least to me. The entire second half of the book really showed Holmberg's strengths as a writer, but I'm fairly certain the first half of the book would have benefited from being about twice as long.
So, I'm very middle of the road with this book. Holmberg clearly has a grasp on her story and what she wants to tell, she just rushes too quickly to get to the point. I'll be picking up the second book to check it out, but if things are rushed again like they are in the first, I'll probably be stopping there. Like I said, Holmberg shows quite a bit of potential but she needs to work on fleshing out the bits in between the action of her books.
To purchase any of the books in this post, and help my local Indie bookstore, and help me buy more books, click the links above!