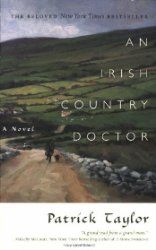 Title
:
An Irish Country Doctor
Series
: Irish Country Books, Book 1
Author
:
Patrick Taylor
Copyright
: 2008
Pages
: 351
ISBN
: 9780765319951
Publisher
:
Forge Books
Twitter
:
@torbooks
Format
: Paperback
Available
: January 22, 2008
Rating
: 3.5/5 stars
Product description:
Barry Laverty, M.B., can barely find the village of Ballybucklebo on a map when he first sets out to seek gainful employment there, but already he knows that there is nowhere he would rather live than in the emerald hills and dales of Northern Ireland. The proud owner of a spanking-new medical degree and little else in the way of worldly possessions, Barry jumps at the chance to secure a position as an assistant in a small rural practice.

At least until he meets Dr. Fingal Flahertie O'Reilly.

The older physician, whose motto is to never let the patients get the upper hand, has his own way of doing things. At first, Barry can't decide if the pugnacious O'Reilly is the biggest charlatan he has ever met, or the best teacher he could ever hope for. Through O'Reilly Barry soon gets to know all of the village's colorful and endearing residents, including:

A malingering Major and his equally hypochondriacal wife;

An unwed servant girl, who refuses to divulge the father of her upcoming baby;

A slightly daft old couple unable to marry for lack of a roof;

And a host of other eccentric characters who make every day an education for the inexperienced young doctor.

Ballybucklebo is long way from Belfast, and Barry is quick to discover that he still has a lot to learn about the quirks and traditions of country life. But with pluck and compassion and only the slightest touch of blarney, he will find out more about life—and love—than he ever imagined back in medical school.

An Irish Country Doctor is a charming and engrossing tale that will captivate readers from the very first page—and leave them yearning to visit the Irish countryside of days gone by.
An Irish Country Doctor
is a quick, charming read, even if it is highly predictable. We follow Barry Laverty, a recent medical school graduate, as he assists the local doctor of the small Irish village of Ballybucklebo, the extremely colorful Dr. Fingal Flahertie O'Reilly. As Laverty learns the ropes of small town medicine from Fingal, he learns that sometimes not going by the book can be just what the doctor ordered when it comes to country folk. Filled with quirky characters and both funny and touching moments, I think this would probably be a big hit with book clubs and fans of the
Mitford
series and such.
Spoilery bits ahead!
Yet, the book proves to be a little too charming and slightly even more predictable as the story goes along, as well as taking too long to drive a point home. For instance, how many times must Laverty need to be shown that quite possibly Fingal's unorthodox doctoring ways work? It's more than you'd think. Each character fits the mold that they need to fit the most, almost to the point where they are caricatures of themselves. Fingal has all the answers. There is, of course, also the predictable love interest for Laverty. Putting this all out like this, it seems like there is not so much to like about the book, but Taylor at least keeps the story amusing throughout, so I was able to let these annoyances be.
Spoilery bits finished!
Chances are highly likely that I will be picking up the next book in the series,
An Irish Country Village
. This is the perfect series to read when you don't need to think too hard about what you're reading and just need some fluff.
Happy reading!
To purchase any of the books in this post, and help my local Indie bookstore, and help me buy more books, click the links above!