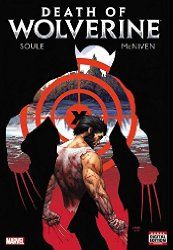 Death of Wolverine
by Charles Soule, illustrated by Steve McNiven
Published by
Marvel
, January 20, 2015
144 Pages • ISBN 978-0785193517 • Hardcover
Schuler Books
•
Barnes & Noble
•
Amazon
Goodreads
•
LibraryThing
To purchase any of the books in this post and help me buy more books, click the links above!
Book description:
All roads must end somewhere, and every hero's story eventually comes to a close. For Logan, the century-old mutant known as Wolverine, that time is now. The loss of his healing factor and the traumatic events of "Three Months To Die" have all led to this, the single most important X-Men event of the decade. Over the years, Logan has been a warrior, a hero, a renegade, a savage, a samurai, a teacher - and so much more. Logan has spent decades being the best there is at what he does...but even the best fade away eventually. And now, the greatest X-Men hero will play a role he's never played before in this solemn special event brought to you by industry superstars Charles Soule and Steve McNiven.

COLLECTING: Death of Wolverine 1-4
Not really sure what the big deal over this was. The story is ultimately a big meh. The only saving grace for the book is McNiven's art, and even that didn't seem to be up to his usual standards. To be honest, I wanted this book to be great. Wolverine is one of the most overused characters Marvel has, and I truly expected something way better for his death than what this series offered.
And to be fair, part of me expected there to be a "non-death" at the end of this story. You can't just kill off a character who appears in roughly half your books, right Marvel? See you after Secret Wars, Wolverine.