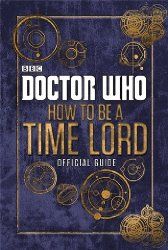 Doctor Who: How to be a Time Lord Official Guide
Published by
Penguin Group UK
, January 6, 2015
176 Pages • ISBN 978-0723294368 • Hardcover

Barnes & Noble
•
Amazon
Goodreads
•
LibraryThing
To purchase any of the books in this post and help me buy more books, click the links above!
Book description:
This is the definitive guide on how to be a Time Lord written by the ancient Time Lords but hilariously improved/sabotaged by the Eleventh Doctor as a gift for his successor, the Twelfth Doctor. Throughout the factual Time Lord sections, the Doctor has crossed things out, added funny scribbles, silly doodles and post-it notes. The central section has been ripped out by an impatient Doctor and replaced with far more important/interesting stuff such as how to correctly wear a fez or dip a fish finger into custard, and other crucial things about how to be a time-traveling hero just like him.
What starts off as a "serious" guide to what it takes to be a Time Lord slowly turns into Eleven's own personal guide for Twelve on what it takes for him to be the Doctor. Filled with pages of Eleven's own thoughts, notes, and doodles on everything that he thinks Twelve will need to know to be the Doctor, we're given a little insight into how Eleven looks at his life. I thought it was a nice touch that the previous incarnations of the Doctor are discussed, as well as all of his companions going right back to Susan. A really great addition to any Whovians library.