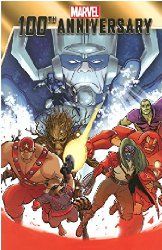 Marvel 100th Anniversary
by Jen Van Meter, Sean Ryan, Robin Furth, and James Stokoe, illustrated by In-Hyuk Lee, Jason Masters, Gustavo Duarte, and James Stokoe
Published by
Marvel
, November 4, 2014
112 Pages • ISBN 978-0785154136 • Paperback

Schuler Books
•
Barnes & Noble
•
Amazon
Goodreads
•
LibraryThing
To purchase any of the books in this post and help me buy more books, click the links above!
Book description:
A remarkable artifact from the future of Marvel Comics! What happens when Marvel's favorite heroes hit the centennial mark? It's 2061, and the world of the Fantastic Four has turned upside-down, complete with the granddaughter of Doom... and the Richards-Banner twins! It's 100 years after Spider-Man's creation, and the Kingpin has stolen Spidey's ultra-powerful techno-symbiote suit! Have the X-Men of 2061 achieved Xavier's dream of mutants and humans living in harmony? How will the Avengers of 2061 cope following the failed Badoon invasion of Earth... and America's disappearance into the Negative Zone? And just in time for the release of their seventh epic motion picture, the Guardians of the Galaxy take on the Silver Galactus!
I don't even know what to say about this other than it's bad. If this is where the Marvel Universe stories are heading in 25 years, I'll be passing. Maybe if there was some sort of overall arc told throughout the five titles it would have been a little better, but we're basically dropped into the middle of "existing" story arcs, and not a single one of them read as something that I wish I could read the entire arc over.
Unless you are a really hardcore Marvel reader, I'd say that this could be easily ignored.