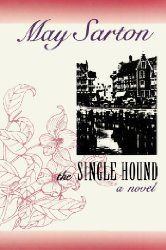 The Single Hound
by May Sarton
Published by
W. W. Norton & Company, Inc.
, 1938 (reprint 1991)
256 Pages • ISBN 978-0393307856 • Paperback

Schuler Books
•
Barnes & Noble
•
Amazon
Goodreads
•
LibraryThing
To purchase any of the books in this post and help me buy more books, click the links above!
Book description:
"Only a poet and, perhaps, only a young poet could have written this beautiful and distinguished first novel." —New York Times

This is the story of two poets, one an elderly Belgian woman known to the world as Jean Latour, the other a young Englishman. When Mark Taylor finds his life and art broken up by his love for an older, married woman, he turns for help to the poems of Jean Latour and finds the help he craves in the poet herself. In this early work we see the first flowering of May Sarton's special ability to depict sensitive people who find they must travel new pathways if they are to discover their true selves.
This first novel, published in 1938, shows the importance that poetry plays in the life and writing of a young Sarton; the story is brimming with poetic imagery and turns of phrase.
The story centers around the friendship of three elderly teachers, the "Little Owls": Doro, the teacher and poet; Annette, who likes to be in charge; and finally Claire, the beauty. In one phrase that describes the characters interactions within their combined lives perfectly, Sarton writes, "the truth is that they had adapted themselves to each other so completely that when one was absent it was just like a trio without a violin. Nothing quite came off." The story also revolves the meeting of two poets, Mark Taylor, and the poet he turns to for help when his life starts to unravel, Jean Latour.
Largely autobiographical, Sarton describes her own writing habits through the writing habits of Doro. I'm sure that each of the "Little Owls" is in some way inspired by Sarton herself. The writing can become very dense at times, and a little flowery in the use of poetical phrases, but it is her first novel, and such techniques diminish as she becomes more sure of herself as a novelist in her later years. You can definitely see the spark here that will grow as she develops as a writer.