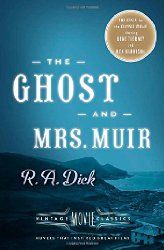 The Ghost and Mrs. Muir
by R. A. Dick
Published by
Vintage Books
, September 23, 2014
192 Pages • ISBN 978-0804173483 • Hardcover

Schuler Books
•
Barnes & Noble
•
Amazon
Goodreads
•
LibraryThing
To purchase any of the books in this post and help me buy more books, click the links above!
Book description:
The basis for Joseph L. Mankiewicz's cinematic romance starring Gene Tierney and Rex Harrison.

Burdened by debt after her husband's death, Lucy Muir insists on moving into the very cheap Gull Cottage in the quaint seaside village of Whitecliff, despite multiple warnings that the house is haunted. Upon discovering the rumors to be true, the young widow ends up forming a special companionship with the ghost of handsome former sea captain Daniel Gregg. Through the struggles of supporting her children, seeking out romance from the wrong places, and working to publish the captain's story as a book, Blood and Swash, Lucy finds in her secret relationship with Captain Gregg a comfort and blossoming love she never could have predicted.

Originally published in 1945, made into a movie in 1947, and later adapted into a television sitcom in 1968, this romantic tale explores how love can develop without boundaries, both in this life and beyond.

With a new foreword by Adriana Trigiani.

Vintage Movie Classics spotlights classic films that have stood the test of time, now rediscovered through the publication of the novels on which they were based.
I received this from a friend for Christmas, and her gift theme this year was books that were the basis for famous movies. It's been years since I've seen the film
The Ghost and Mrs Muir
(and I didn't even know about the sitcom series from the 60s), and I'll admit up front that I had no idea the movie was based on a book, so I went into the book with no preconceived expectations. Turns out, I love this book!
The story follows Lucy Muir, who strikes out on her own after the death of her husband. Due to a large amount of debt that he left her, and trying to escape the overbearing, constant presence of his family in her life, she decides that all she needs in life for her and her children is a place of their own and solitude for herself. After being shown Gull Cottage in the village of Whitecliff, Lucy decides on the spot that she must live there, even though she is warned very strongly about moving there because the house is haunted. Determined not to let something as simple as a ghost deter her from her dreams of independence, she moves into the house anyway and ends up forming a friendship with the ghost of sea captain Daniel Gregg. Over the course of her life and through multiple struggles, she and Captain Gregg become more than just friends, and ultimately the story grows beyond her story to become their story.
This is a charming and quick read. I finished the book in one reading, and is the perfect book to sit down with a cup of tea on a chilly winter afternoon and enjoy.